Bryanna Clark Grogan's Vegan Feast Kitchen/ 21st Century Table: The kitchen journal of a vegan food writer.. I'm on Facebook and Twitter (see links in sidebar at right).
Friday, August 31, 2007
CHANTERELLE TIME AGAIN!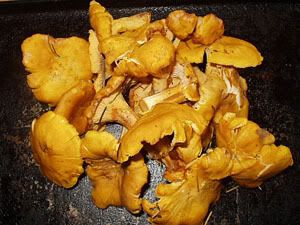 Fresh chanterelles picked on Denman Island.
Since this has been a mixed-bag of a summer, with lots of rain interspersed with heat,
chanterelle mushrooms
are popping up all over, except in our area (some years we get some, and other years, nothing). Our friends Jane and Matzuki have the "motherlode" of chanterelle patches and, fortunately for us, pick more than they can use! They share lots of their bounty with us! (I saw them for sale online for $25 a lb.!) I use them in risotto and sautes, and I slice mounds of them and cook them in oil in a hot oven in a large baking pan to freeze for later use. But one of our favorite uses for chanterelle mushrooms is in classic Mushroom and Barley Soup, which we had last night for dinner, and again for lunch today.
(BTW, 5 medium chanterelles, or about 3 oz., contains only 25 calories and 3 g of protein.)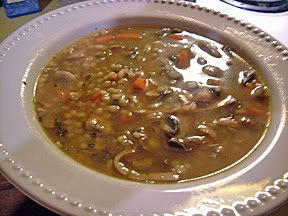 Printable Recipe
BRYANNA'S CLASSIC MUSHROOM AND BARLEY SOUP (You can make this with other mushrooms, too!) A WW CORE PLAN-COMPATIBLE RECIPE
serves 8
Adapted from my book "The Fiber for Life Cookbook".
This is a very rich-tasting soup, very comforting. It's one of my absolute favorites. This version is a typical Eastern European variety, but you can add a few cooked beans or slivered tofu for extra protein, if you like. I have streamlined this recipe from the book a little.
1/2 oz. dried boletus or porcini mushrooms, broken up
2 T. olive oil
1 large onion, thinly sliced
2 stalks celery with leaves, chopped
1/4 c. parsley, chopped
2 carrots, scrubbed and diced
3-4 cloves garlic, chopped
1 lb. fresh sliced chanterelle, crimini (brown button), or portobello (large brown) mushrooms
10 c. vegetarian "chicken" broth
1-2 tsp. Marmite,Vegemite or other yeast extract (or 2-4 tsp. dark or red miso)
1 c. pot barley (also called
hulled barley
)
OPTIONAL:
1 c. cooked or canned soybeans or black-eyed peas, rinsed and drained,
OR
6 oz. firm tofu, cut into slivers
salt and pepper to taste
Soak the dried mushrooms in boiling water to cover for 1/2 an hour. Meanwhile, h
eat the olive oil in a large soup pot and saute the onion, celery, 2 T. of the parsley, carrots, garlic, and fresh mushrooms for about 5 minutes. Slowly add the broth.
Strain the dried mushrooms and reserve the water. Chop the mushrooms and add them to the pot along with the reserved water, barley, and
yeast extract or miso.
Add optional the beans or tofu, if using. Bring to a boil, then reduce heat, cover and simmer 1 hour. Taste for salt and pepper.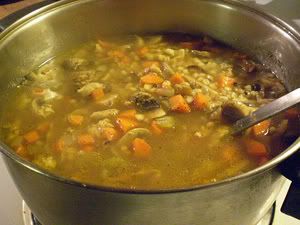 If the soup is too thick for your liking (it thickens up when cooled), just add some more broth.
Servings: 8

Nutrition Facts
Nutrition (per serving): 147.9 calories; 24% calories from fat; 4.2g total fat; 0.0mg cholesterol; 80.6mg sodium; 463.2mg potassium; 24.1g carbohydrates; 5.8g fiber; 3.2g sugar; 18.3g net carbs; 5.7g protein; 2.5 points.
Enjoy!

Posted by

Bryanna Clark Grogan
at 2:08 PM