Bryanna Clark Grogan's Vegan Feast Kitchen/ 21st Century Table: The kitchen journal of a vegan food writer.. I'm on Facebook and Twitter (see links in sidebar at right).
Friday, July 20, 2007
EASY, DELICIOUS RED LENTIL SUPPER DISH

This is a traditional Palestinian dish, little known in Western circles. I've been wanting to try it for some time, and this week, busy with a lot of different things, it seemed like an easy meal-- and it was! I've seen this recipe here and there on the 'Net, and I didn't change it, but I was little more exact with the measurements. It is simple and homey, not terribly attractive, but we really liked it. The browned onions really make the dish, visually and taste-wise. I've noticed that many Middle Eastern home-style dishes utilize browned onions as a topping. I think it was, and still is, an inexpensive and clever way to add flavor and color to otherwise very simple dishes.
The recipes seem to indicate that this dish is served at room temperature, but we ate it hot. Do try this!
Printable Recipe
RISHTAYE (RED LENTIL AND PASTA RAGOUT WITH BROWNED ONIONS) (WW Core Plan-compatible)
Serves 3
1 cup
red split lentils
(orange lentils)
100 gms (about 3 1/2 oz.) egg-free tagliatelle or linguine pasta (flat)
4 cups (1 qt.) water
1 tsp. salt
1 tsp. ground cumin
Garnish:
2 medium onions, thinly sliced
1 Tbs olive oil
1 tsp.
sumac
(organic
here
) (see notes about this lemony-tasting spice
here
) (link to
sumac on amazon.ca here
)
Place the lentils and the tagliatelle in a deep pan (I used a stir-fry pan) with 3 cups of the water. Add the salt and cumin. When the water starts to boil start stirring, adding the last cup of water whenever the water level becomes minimal, until the mixture turns into a homogeneous thick broth-like mixture. This process should take about 15 minutes of stirring the mixture over medium heat of and on-- but keep an eye on it.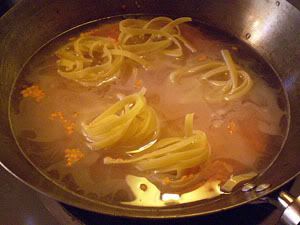 Before cooking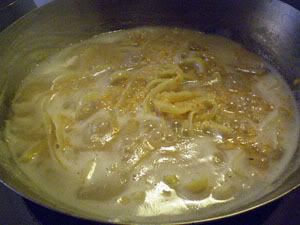 Half-cooked
While it cooked I browned the onions in a large nonstick skillet in the olive oil over medium heat, stirring often. You want them to be deep brown and a little crispy (see photo below).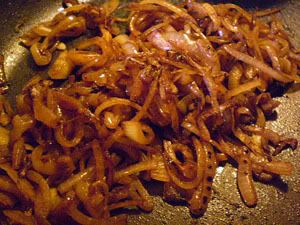 Pour the mixture into 2 flat pasta bowls. Top with the onions, and then sprinkle the sumac on top. Serve with green olives, salad, or spring onions and radish.
Nutrition Facts
Nutrition (per serving):
421.1 calories; 13% calories from fat; 6.6g total fat; 0.0mg cholesterol; 643.6mg sodium; 553.8mg potassium; 71.3g carbohydrates; 8.9g fiber; 3.5g sugar; 62.4g net carbs; 21.1g protein; 8.2 points.
Enjoy!

Posted by

Bryanna Clark Grogan
at 4:55 PM