Bryanna Clark Grogan's Vegan Feast Kitchen/ 21st Century Table: The kitchen journal of a vegan food writer.. I'm on Facebook and Twitter (see links in sidebar at right).
Thursday, January 18, 2007
SOME RECENT MEALS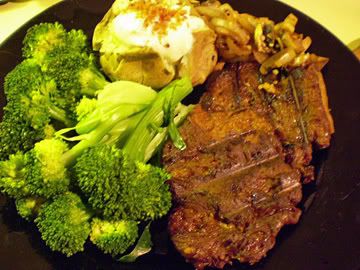 Grilled seitan steak dinner
The seitan steaks in the meal pictured above are from a recipe in my subscription newsletter, The Vegan Feast (Jul/Aug/Sep 06 issue-- UPDATE 2012: this newsletter is no longer being published. The recipe is in my new book
World Vegan Feast
. )
These are all WW Core Food Plan recipes, made between meals for the newsletter as I re-write recipes and take photos.
(Subscribers, the newsletter is a bit late this time, due to the power outages, etc., but should be out to you early next week!)
With alot of my recipes, I can just lower the fat, steam-fry onions, etc., instead of sauteing, and make it a Core recipe. I allow 1-2 tsp. fat per serving in a Core recipe, because 2 tsp. "good fat" is allowed in the Core Food Plan every day. Anything over that has to be counted out of your 35 extra points per week. So, recipe don't have to be totally fat-free. I tend to use a little bit of toasted (Asian) sesame oil most often, because a little bit adds alot of flavor.
I say "all" are Core recipes, but I'm not sure about the pancake recipe at the end of this blog because they are made with flour, even if it's whole-grain. Anyway, a serving is 3 pts.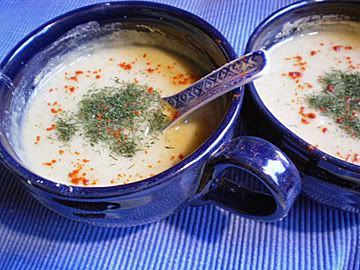 Creamy bean-based broccoli-cauliflower soup with smoked paprika and dill garnish
BRYANNA'S CREAMY BROCCOLI-CAULIFLOWER-AND-WHITE BEAN SOUP (WW CORE PLAN COMPATIBLE)
Servings: 4
A very simple concept-- you simmer cooked white beans with whatever vegetable you like , then puree it for a thick and creamy soup,
without
potatoes, starches, butter, cream, or nuts.
1 1/2 cups well-cooked or canned white beans (15 ounce can), rinsed and drained (such as white kidney beans, cannellini beans, navy beans, or Great Northern beans)
1/2 a medium onion, chopped
1 large clove garlic, chopped
1/2 pound fresh broccoli, trimmed and chopped
1/2 pound fresh cauliflower, trimmed and chopped
2 cups chicken-style vegetarian broth
1/2 teaspoon salt
freshly-ground black pepper to taste
Steam-fry the onion and garlic for 5 minutes over high heat in a large non-stick skillet sprayed with a little oil from a pump sprayer, adding drops of water as needed to keep from sticking.
(Or cook in a microwave oven in a covered microwave-proof casserole for 3 minutes.)
Don't brown the onions.
Add to the beans, vegetables, broth, and salt in a medium pot. Bring to a boil, cover, turn down to medium-low, and simmer about 10-15 minutes, or until the vegetables are tender.
Puree right in the pot with an immersion/stick blender, or, with a slotted spoon, transfer all the solids to the food processor or blender and puree until smooth .
Important caution:
Leave an escape in the lid for steam, or else hot veggies will explode all over you!). Add a bit of the broth, then stir the pureed mixture back into the pot. Taste for salt and pepper. Garnish each serving with dried dill weed and smoked paprika or sweet paprika.
Nutrition Facts
Nutrition (per serving):
129.7 calories; 3% calories from fat; 0.6g total fat; 0.0mg cholesterol; 268.3mg sodium; 745.3mg potassium; 24.0g carbohydrates; 4.5g fiber; 0.9g sugar; 19.5g net carbs; 9.9g protein; 1.8 points.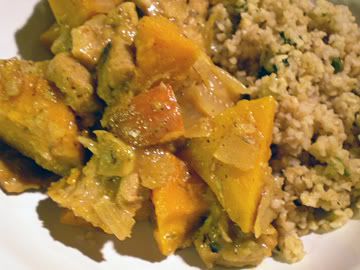 "Autumnal Stew" with TVP chunks and Hubbard squash, served with bulgur wheat pilaf
The above recipe is from my subscription newsletter, The Vegan Feast (Oct/Nov 04 issue). It's a very satisfying winter meal, too!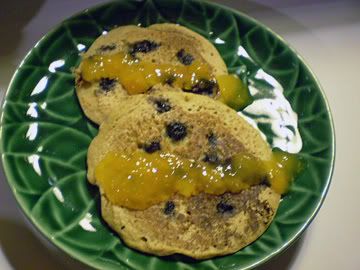 Blueberry pancakes made with half oat flour and half wholewheat pastry flour
BRYANNA'S BLUEBERRY-OAT PANCAKES
Servings: 6
Yield: makes about 24 four-inch pancakes
This is a great basic high-fiber, but very light and tender pancake recipe, due to the oat flour and wholewheat pastry flour.
1 1/2 cups
oat flour
( you can use 1 1/3 cups rolled oats ground fine in a dry
blender
or, in batches, in a clean dry
electric coffee/spice mill)
1 1/2 cup
whole wheat pastry flour
(do not substitute ordinary whole wheat flour)
2 Tbs brown sugar
1 teaspoon baking soda
1 teaspoon baking powder
1 teaspoon salt
1 large pinch nutmeg
1 large pinch cinnamon
2 cups minus 1 Tbs nondairy milk
1 cup water
1 Tbs lemon juice
1 Tbs oil
1 teaspoon vanilla
1 cup small fresh or frozen blueberries, placed in a small sieve over a bowl to drain
In a large bowl, whisk the oat flour, pastry flour, baking powder, baking soda, salt, nutmeg, and cinnamon together well. Add the soymilk, water, lemon juice, oil, and vanilla. Stir briefly, just to mix-- lumps are okay.
(This batter is a little more runny than ordinary pancake batter.)
Heat a
non-stick griddle
or
large nonstick skille
t (or a
nonstick electric griddle
, which cooks very evenly), or a well-seasoned
cast iron griddle
(or
pre-seasoned
), over high heat. When it's hot (drops of water dance on the surface when sprinkled on, the disappear quickly), turn it down to medium-high (I usually turn my electric griddle to 325 degrees F). Spray with a little oil from a
pump sprayer
. Spoon the batter onto the surface, not crowding, because they spread a little. You can make small pancakes, about 4" across , or larger ones, whichever you prefer.
Sprinkle a few blueberries over the top of the pancake immediately after forming the pancake batter in the pan.
When bubbles appear on the tops, flip the pancakes over gently, loosening the bottoms carefully.
When the underside is golden and the inside is cooked (you can check one with a fork to make sure), serve them immediately. Don't overcook these-- they should still be kind of puffy when you take them off the griddle. If you let them overcook, they'll go flat and won't be as light and cakey as they should be. Serve hot with low-sugar syrup or fruit topping, such as low-sugar jam.
Nutrition Facts
Nutrition (per 4 pancakes):
177.2 calories; 19% calories from fat; 3.9g total fat; 0.0mg cholesterol; 566.7mg sodium; 338.2mg potassium; 31.0g carbohydrates; 5.1g fiber; 4.5g sugar; 25.9g net carbs; 6.9g protein; 3.1 points.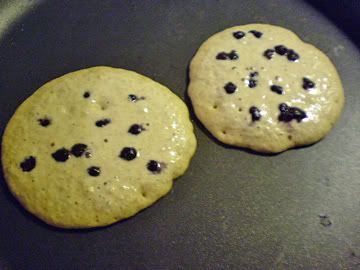 Enjoy!

Posted by

Bryanna Clark Grogan
at 8:42 AM


Labels: blueberries, Blueberry-Oat Pancakes, breakfast, broccoli, cauliflower, Creamy Broccoli-Cauliflower-and-White-Bean Soup, oatmeal, pancakes, soup, vegan pancakes, Weight Watchers Core Plan, white bean