Bryanna Clark Grogan's Vegan Feast Kitchen/ 21st Century Table: The kitchen journal of a vegan food writer.. I'm on Facebook and Twitter (see links in sidebar at right).
Thursday, July 13, 2006
EASY AS TORTILLA PIE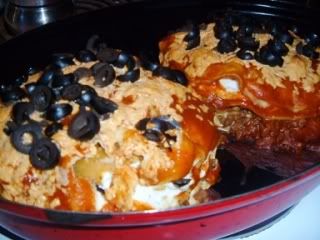 What did I make for dinner in the midst of all the wedding busy-ness last week? Here's one thing we really liked! I made it totally on the spur-of-the-moment. I used the fat-free chili gravy from the "Chicken" Tortilla Pie from last July's Vegan Feast newsletter (which was "fancier", with artichoke hearts and sundried tomatoes in it). This sauce is so quick to mix up and tastes great on this sort of dish! Corn tortillas are tastier than flour tortillas in this type of dish, I think, and have fewer calories, too.
Printable Recipe
BRYANNA'S EASY VEGAN "HAMBURGER" TORTILLA PIE
Serves 4
I made this with leftover frozen tortillas, homemade tofu "mascarpone", vegan "cheddar", and a package of Yves Veggie "Ground Round", PLUS a jar of peppers and some canned sliced olives that I wanted to use up. For want of a vegetable, I used some frozen corn that I had in the freezer. It was yummy!
(NOTE: You could use whole or mashed pinto or black beans, or spicy bean spread or something like that, either instead of, or in addition to, "hamburger" crumbles.)
8 corn tortillas (8-inch size)
1 pckg Yves Veggie "Ground Round" (any style), or about 2 cups any veggie "hamburger" crumbles
2 cups frozen corn, thawed and drained
1 cup Tofu Mascarpone (from my book
Nonna's Italian Kitchen
), or you could use vegan "cream cheese" such as Tofutti, OR vegan "Ricotta" (
recipes at the end of this post
)
6 oz. chiles from a jar (NOT jalapeños-- California green chiles are good), rinsed (seed if necessary) and flattened out (I used a jar of Spanish "fire peppers", but they were actually quite mild)
3 oz. grated vegan cheese (your favorite variety)
FAT-FREE CHILI GRAVY:
1 cup water
1 1/2 Tbs tomato paste
1 Tbs chili powder
1 Tbs white flour
1/4 tsp garlic powder
1/4 tsp onion powder
1/4 tsp ground cumin
1/4 tsp salt
1/2 tsp soy sauce
GARNISH:
sliced California black olives
OPTIONAL:
tofu sour crème
(commercial, like Tofutti, or
homemade
)
sliced avocado
hot sauce or salsa
chopped tomatoes
chopped onion
Preheat the oven to 400 degrees F.
TO MAKE THE CHILI GRAVY:
Blend all of the gravy ingredients in a blender until smooth. Bring to a boil in a medium saucepan, stirring, then reduce heat to medium and cook for 15-20 minutes, stirring frequently. OR place it in a 1 qt. microwave-safe bowl and microwave 2 minutes. Whisk and microwave 1 more minute until thickened.
TO ASSEMBLE THE PIE:
Mix the "hamburger" crumbles with 1/2 cup of the Chili gravy. Set aside.
Spray a 9" pie pan with oil from a pump sprayer.
1.)Layer 2 tortillas in the bottom of the pan. (Or make 2 stacks in an oval pan, like I did in the picture.)
2.) Layer on the peppers; then 2 more tortillas.
3.) Spread on the "mascarpone" and add the corn kernels (they will stick to the "cheese"; add 2 more tortillas.
4.) Add the "hamburger" crumbles in an even layer; add the last 2 tortillas.
5.) Spread on the the remaining sauce, sprinkle with the the soy cheese and olives.
Cover the casserole with foil.
Bake for about 25-30 minutes. Cut into wedges to serve.
Enjoy!

Posted by

Bryanna Clark Grogan
at 12:06 PM