Bryanna Clark Grogan's Vegan Feast Kitchen/ 21st Century Table: The kitchen journal of a vegan food writer.. I'm on Facebook and Twitter (see links in sidebar at right).
Thursday, September 15, 2011
SPARKLING PEACH SORBET AND SOME ADVENTURES AT VIDAVEGANCON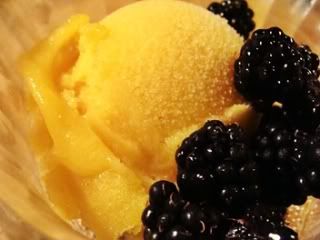 I have a recipe for you at the end of this post-- you're going to love it! Sparkling Peach Sorbet with fresh-picked blackberries from our backyard.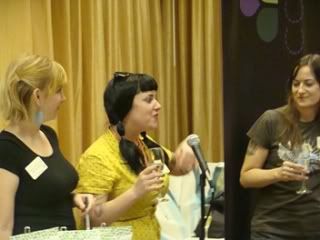 The Fab3, VidaVeganCon founders and organizers giving their welcome address
— Janessa Philemon-Kerp, Jess Scone and
Michelle Truty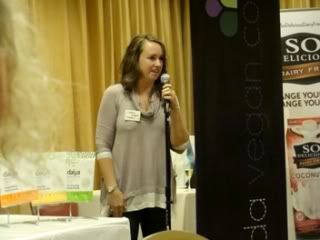 VidaveganCon Sugar Beet Sponsor, VegNews, Rep Colleen Holland
It's taken me a long time to process the VidaVeganCon and I'm having difficulty writing about it-- partly, it was the "overwhelmed" factor (I know what you mean,
Susan
!) and partly it was just having company on and off for 2 weeks! (Wonderful company, my family, my loved ones-- my daughters and grandchildren, stepson, cousins! Loved having them here, miss them dreadfully, but didn't get much blogging, writing or even thinking done!) But, I will plunge in, finally...
I had a leisurely train ride from Vancouver to Portland on the Amtrak train and arrived Thursday afternoon to be plunged into the relative whirlwind of VidaveganCon (I do live on a small, quiet island, after all). My good friend
Julie Hasson
, the wonderful chef, author (of "Vegan Diner
", and Portland's Native Bowl food cart co-owner, picked me up and whisked me off to a large brew pub for a vegan quinoa bowl that was filling, healthful and tasty, but couldn't rival Native Bowl's! Then we went to Vendetta for the casual "Meet-and-Greet" in the back patio, where I met the 3 brilliant ladies who launched (forget "ladies that lunched"!) VidaVeganCon, was practically incoherent meeting
Isa Chandra Moscowitz
and
Terry Hope Romero
for the first time, and met
Dynise Blacavage
(author of "Urban vegan
") for the first time. It is a bit of a blur with all the new faces!
Julie's husband Jay met us there just as we prepared to troop off to enjoy a sneak preview of the new documentary film "
Vegucated
". The charming and funny director, Marissa Miller Wolfson, introduced the film and fielded questions afterwards. I thought it was a great little film. It featured 3 ordinary people who agreed to go vegan for 6 weeks and knew very little about what they were letting themselves in for. The situations and difficulties they faced were everyday-real-- no sugar-coating or romanticizing. I was happy about that because some folks make it sound just too easy, and for most people it's not. They may have uncooperative family members to deal with, a big learning curve when it comes to nutrition, cooking, finding ingredients, etc., the temptation to just throw the whole thing over and revert back to familiar patterns. In the end, it was seeing how farm animals (even on organic farms) are treated that reinforced the determination of our 3 brave subjects (and the 2 children of one of them). I won't say any more-- see it if you can!
Julie and Jay, despite the demands of busy lives, hosted me in their home for the whole weekend and it was great to catch up with them, their kids, and their dog Bruno (possibly the cutest dog in the world!). And I got to meet the new dog in the family, daughter Syd's little Schnauzer puppy, Zelda, too.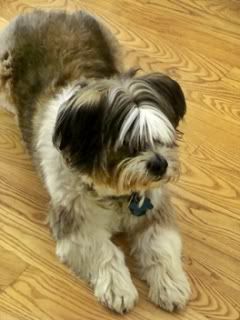 Bruno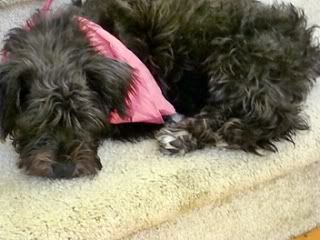 Zelda
On Friday, I helped a bit in the kitchen for the filming of Urban Vegan
Dynise Balcavage
cooking for a segment of
EverydaydishTV
. She always looks so glamorous, even in the kitchen, but she's a down-to-earth gal!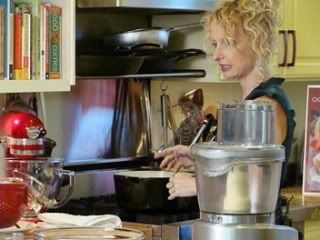 Later there was the VegNews-sponsored Champagne & Cupcake reception in the Columbia Falls Ballroom at the University Place Hotel where the VVC was taking place. Here we saw the scope of the conference-- so many vegan bloggers all in one room! (And so young, so many tatoos! My granddaughter would have felt quite at home there.) It was quite exciting, even breath-taking. I kept seeing people (mostly women) who looked so familiar... and then I would see the name tag and it would not be anyone I had ever met before, but someone who's words and recipes I had read and enjoyed.
Vegan cupcakes to live for!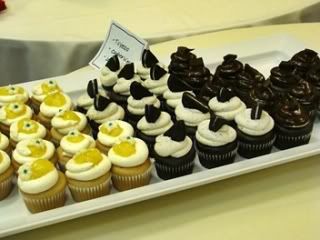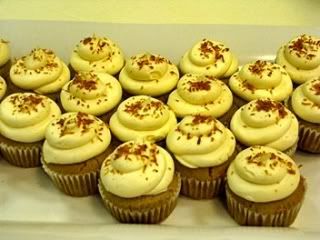 I could go on for hours, but that's just not possible (and you'd probably go to sleep!) So here are some of the highlights for me:
1.) Meeting again with vegan buddies whom I very seldom get to see in person:
Besides my friend Julie Hasson:
Susan Voisin, the extraordinary woman behind
fatfreevegan
Gail Davis of
hungryvegan.com
-- she's a bundle of vegan energy and a good friend to vegan authors and entrepreneurs!
Fran Costigan
, NYC vegan pastry chef extraordinaire
Kittee Berns, a
vegan force of nature
!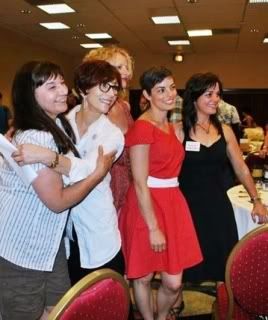 Me, Fran Costigan, Dynise Balcavage, Julie Hasson and Bianca Phillips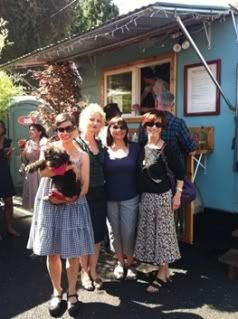 Having lunch at Native Bowl-- Julie(with Zelda), Dynise, Me, Fran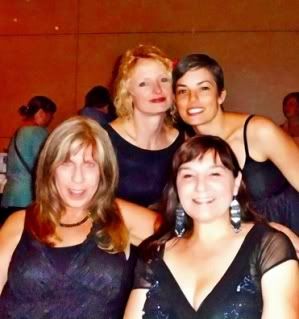 As Dynise says: "4 VFF in LBD"--At the Galarama Saturday night (Dynise and Julie in the back, Gail and me in front)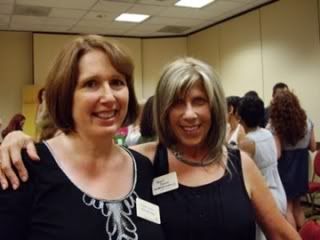 Susan Voisin with Gail Davis-- 2 wonderful vegan women!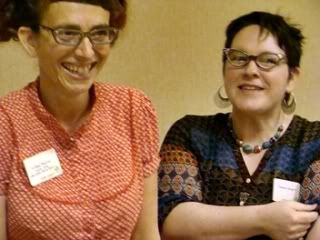 Kittee Berns and Joanna Vaught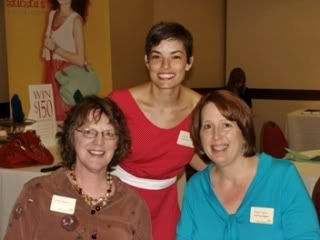 Ginny Messina with Julie and Susan Voisin
2.) Meeting new friends and famous vegans! (In no particular order)
Ginny Messina
Hannah Kaminsky
Jasmin Singer
Isa Moscowitz
Terry Romero
Sarah Matheny
Dynise Balcavage
Bianca Phillips
Christy Morgan
Allison Rivers Samson
Marti Mïllër Häll
Shaun Haney
Joanna Vaught
Amey Mathews
Wendy Gabbe Day
Gena Hamshaw
Grant Butler
Gabrielle Pope
Joni Marie Newman
Ryan Patey
Mo Martin
John McDevitt
Kelly Peloza
Michelle Schwegmann
Amber Shea Ford
ChicaVegan-- a vegan Peruvian chef from Pacha Vegan Peruvian Cuisine in Hollywood
and, of course, the valiant VVC organizers:
Jess Scone
Michelle Truty
Janessa Philemon-Kerp
Whew!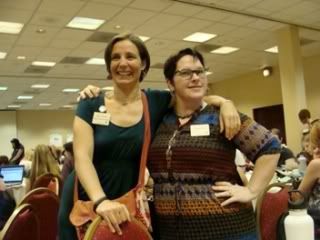 Amey Mathews and Joanna Vaught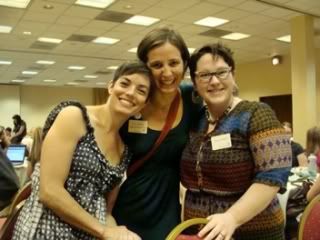 Julie with
Amey Mathews and Joanna Vaught
3.) Being on the Publishing Panel with Isa Moscowitz, Terry Romero, Ryan Patey, Julie Hasson and Joni Marie Newman
(I think we trampled on some rather romantic dreams of budding authors when we all told them that we hadn't quit our day jobs!)
#4) Being on the Nutrition Panel with the likes of Ginny Messina, Gena Hemshaw, Wendy Gabbe Day and Grant Butler!
#5) Going out to an authentic, inexpensive Mexican restaurant (Taqueria Los Gorditos) and being able to choose from a VEGAN menu, with vegan chorizo, vegan sour cream, vegan Daiya cheese, and vegan SoyCurls!
#6) Dynise Balcavage's "Extreme Food Writing Makeover" (Disclaimer-- this blog post is not an example of what I have learned from her-- I'm too tired.) I promise to censor my exclamation marks. Dynise packed SO much information in that short period.
Best of all, It was an amazing experience and very uplifting to see and hear and experience all that passion, dedication, expertise, creativity, energy, entrepreneurship, humor, and compassion all in one room!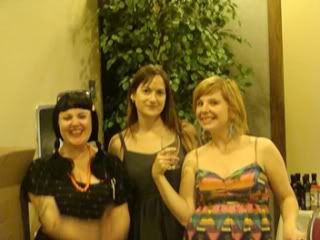 The 3 tired organizers, Jess, Michelle and Vanessa, ready to collapse as we all took our leave!
*******************************************************
Okay-- here's that recipe I promised you! Made it for a company dinner on the weekend.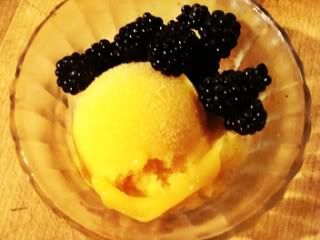 Printable Recipe
BRYANNA'S SPARKLING PEACH SORBET
Yield: 6 cups: 12 servings
Elegant, light and fresh-tasting, this sorbet makes peach season worth waiting for. The Instant Clear-jel (or xanthan gum) makes the sorbet very creamy and prevents it from getting rock-hard in the freezer.
You will need a home ice cream maker for this recipe. If you don't have an electric version, an inexpensive hand-cranked version (the type that uses a metal cylinder which is kept frozen in the freezer until used), such as the Donvier, works just fine (and you only have to turn the handle 3 or 4 times every few minutes).
2 1/2 cups fresh ripe peaches, peeled and cut-up (about 6 medium peaches) (or 16 oz. frozen unsweetened peaches, almost thawed)
1 cup sparkling apple or pear juice, or sparkling wine (
can be non-alcoholic)
, or hard or dry peach, pear or apple cider
1 cup water
3/4-1 cup light unbleached organic sugar
(I used 1 cup)
(or use 6-8 tablespoons sugar, plus 3-4 tablespoons agave nectar)
3 tablespoons fresh lemon juice
2 teaspoons Instant Clear-Jel, OR 1/4 teaspoon Xanthan gum or Guar gum
1 1/2 teaspoons grated organic orange zest
(optional)
2 tablespoons almond liqueur
(such as Amaretto)
, rum, Grand Marnier or peach brandy
(optional)
Place the peaches, sparkling wine, juice, or cider, and water into the blender container along with the sugar, lemon juice and Instant Clear-Jel. Add the optional orange zest and liqueur, if desired.
Puree the whole mixture in the blender until very smooth. Chill the mixture, then freeze it according to directions for your machine. Pack the frozen mixture into freezer contains and freeze for several hours before serving.
Serving Suggestions:
For a "Peach Melba" frozen dessert
, top each serving with thawed frozen raspberries.
For a delightful color contrast,
serve the sorbet with fresh, ripe blackberries.
Nutrition (per 1/2 cup serving):
84 calories; 1% calories from fat; 0.13g total fat; 0.0mg cholesterol; 1.6 mg sodium; 20.0g carbohydrates; 1g fiber; 15.7g sugar; 0.3g protein.
Enjoy!

Posted by

Bryanna Clark Grogan
at 4:52 PM