Bryanna Clark Grogan's Vegan Feast Kitchen/ 21st Century Table: The kitchen journal of a vegan food writer.. I'm on Facebook and Twitter (see links in sidebar at right).
Monday, May 3, 2010
A RECIPE FOR HOMEMADE VEGAN BACON SALT, AND FOODIE TRIP TO PORTLAND, PART 4: DINING AT THE BLOSSOMING LOTUS

Homemade Bacon Salt in olive oil
At the Culinary Expo at the IACP Annual Conference in Portland, we tasted a delicious gourmet BBQ "Bacon Salt
" (it was vegan). Now, I know that there is a bacon-mania going on out there (you can even buy bacon chocolate bars at Whole Foods-- yuck!), but, being vegan, I haven't paid too much attention. So, it seems that bacon salt has been around for a while and I just never noticed! All the the bacon salt
I have seen on the Internet is vegetarian-- it either just contains the flavorings for bacon (liquid smoke, brown sugar, etc.), or it contains some soy bacon bits
,
but it may contain milk products
. But, the vegan version is a wee bit expensive and I would have to order it by mail, so I thought I'd have a go at making my own homemade variety. I knew that it would not be as complex as the expensive variety we tried at the Expo (I didn't have any smoked dried tomatoes
, or smoked black pepper
on hand!), but I had enough essential ingredients that I was confident I could make something really tasty. It took a little tasting and re-blending, but it turned out really well!
The amazing thing to me was that

I started with 1/3 cup of smoked salt, and ended up with 1 1/2 cups of Bacon Salt!

Consequently, the sodium content of this condiment is much, much lower than table salt--

1 teaspoon contains 90.2 mg. of sodium; 1 teaspoon of table salt contains 1880 mg of sodium!
(How can this be so low in salt?
I used Living Cookbook recipe software to do the nutrient analysis for this and all my other recipes, using FDA nutrition data. Keep in mind that most of the recipe is NOT salt-- only 1/3 cup out of 1 1/2 cups total. If you add up the tablespoons of all of the dry ingredients in the recipe, except for the tomatoes, it comes to 20.5 tablespoons. 6 dried tomatoes pieces (not in oil), ground up, make up the last 3.5 tablespoons, which makes 24, which makes 1 1/2 cups, the recipe yield.
I use Saltworks Salish Alderwood Smoked Salt in this recipe, the "fine grain", which is actually much larger grained than finely ground table salt, and so has less sodium than table salt. (See photo below.) I used the nutrition facts for kosher salt in the analysis, because is larger-grained than table salt, but not coarse grained.)
Here are some uses for Bacon Salt:
on corn on the cob, popcorn and homemade oven-fries; seitan steaks; in BBQ sauces; in marinades for seitan TVP and tofu; in dips, spreads, and vegan mayonnaise; in baked beans; in salad dressings and on salads; as a seasoning in homemade seitan products; in mashed potatoes; on scrambled tofu; in eggless egg salad (made with tofu); roll tofu pieces in it and pan-fry; mix with olive oil for a French bread dip; on potatoes; in potato salad; on or in veggie burgers; on a grilled (vegan) cheese sandwich; with vegan cream cheese and/or vegan sour cream as a dip or spread; on steamed or grilled or roasted veggies; on pasta with a thin creamy sauce (a sort of vegan carbonara); on grits; in vegan mac'n'cheeze; on many types of sandwiches; in soups (or on them); on homemade potato crisps (chips) or other veggie crisps-- kale chips, maybe?-- I'm sure that's just the beginning!
Printable Recipe
BRYANNA'S HOMEMADE SMOKY VEGAN BACON SALT
Servings: 72 (1 serving= 1 teaspoon)
Yield: 1 1/2 cups
This stuff is addictive and the uses are endless (see above)! It is low in sodium, as well—1 teaspoon contains 90.2 g. of sodium; 1 teaspoon of table salt contains 1880 g of sodium!
NOTE:
Good smoked salt is expensive, but you only need 1/3 of a cup for this recipe, and it makes alot!
You can make your own smoked salt if you have a stove-top smoker
-- I'm going to try this soon and I'll report on it! I'm also going to try making my own bacon bits, and, if I'm satisfied, I'll post those as well.
Saltworks Salish Alderwood Smoked Salt, "fine grain"
Ingredients:
1
/3 cup smoked salt of your choice (I used "fine grain"
Saltworks Salish Alderwood Smoked Salt
)
(IMPORTANT NOTE: The texture of this salt is a bit like kosher salt—see the photo above; so, if you use a granulated salt, you need to use less, and if you use a coarse crystal salt you need to use more-- see photo below.)
1/4 cup
veggie bacon bits
of your choice (
if homemade, make sure they are very dry!
) (
Canadian link
or try a natural foods store)
6 pieces sundried tomatoes (
dry, NOT in oil
), chopped (
the drier the better
) (OR you can use
smoked sundried tomatoes
)
3 Tbs brown sugar
3 Tbs granulated organic sugar
2 Tbs hot smoked paprika
(pimenton)
1 Tbs sweet smoked paprika
(pimenton)
1/2 Tbs granulated garlic
1/2 tsp freshly-ground black pepper (OR use
smoked black pepper
, freshly-ground)
1/2 tsp mustard powder
1/2 tsp onion powder
NOTE: If you want the salt to be a little more coarse
, mix all of the ingredients EXCEPT the salt in the blender or VitaMix first. When they are powdery, add the salt and whiz until it's the texture you want.
I just mixed everything in the DRY VitaMix (or use a good blender) and blended on high, stopping now and then to stir everything up (because it tends to clump together), and then blending again. When I couldn't feel any tomato bits anymore, I stopped. I scraped the mixture into a dry bowl and mixed it with a spoon to fluff it up. Then I scooped it into a dry 1-pint canning jar with a tight lid.You can put some in a shaker-jar for table use.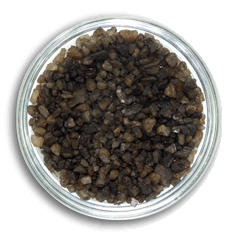 Coarse crystal salt-- in this case Saltworks
Salish Alderwood Smoked Salt
Nutrition Facts
Nutrition (per teaspoon):
7.6 calories; 15% calories from fat; 0.1g total fat; 0.0mg cholesterol; 90.2mg sodium; 23.6mg potassium; 1.5g carbohydrates; 0.2g fiber; 1.2g sugar; 1.3g net carbs; 0.2g protein; 0.1 points.
Delicious on popcorn!
And on a baked potato, too:
***********************************************
PART 4 OF MY FOODIE TRIP TO PORTLAND: DINNER AT THE BLOSSOMING LOTUS
Friday night, as I mentioned before, I went to dinner with Kittee and Julie to
The Blossoming Lotus
, a very popular vegan restaurant in Portland (there was a sister restaurant in Kauai, now closed, unfortunately). It has a lovely, casual atmosphere and the staff was very friendly.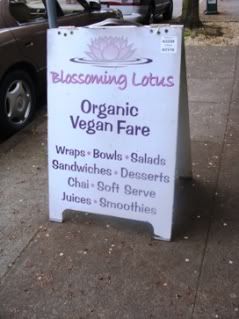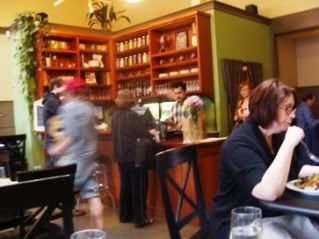 We had a hard time choosing what to order.
Julie and Kittee both had the Crispy Thai BBQ Salad
(Romaine, mixed greens, shredded cabbage, carrot, cucumber, raisins, crispy rice sticks, curried cashews and thai spiced barbecue soy curls, topped with creamy ginger dressing, fresh herbs & toasted coconut):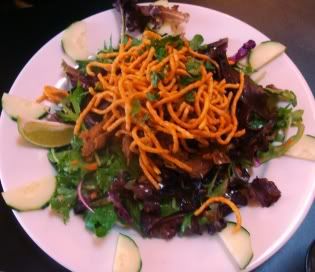 I tasted it and it was delish!
I had the Four Cheese Lasagna, which contains no cheese!
They make their own! (Layers of fresh seasonal vegetable marinara, semolina noodles, herbed tofu ricotta, roasted zucchini & almond mozzarella, and sesame-nutritional yeast parmesan, served on a bed of steamed kale, topped with lemon-basil cashew cream)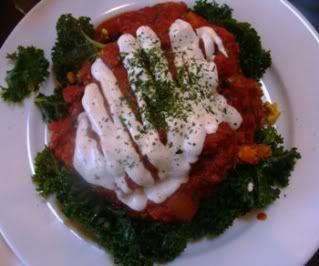 Here are some close-ups of the interior: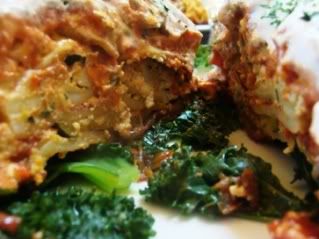 It was very good and very filling-- I couldn't finish it and took the rest home!
We regrettably passed on dessert and retired to a bench on the street to chat, meeting some Portland interesting characters as well, including a lovely little Pomeranian dog!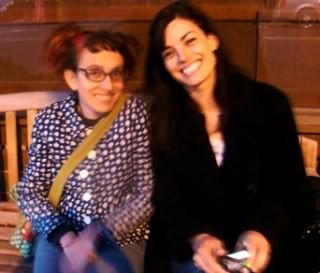 Kittee and Julie, replete with a yummy dinner, on the bench outside the Blossoming Lotus
Then Julie and I had a hunt on foot for her car (we couldn't remember where we had parked it!), were rescued by Kittee, who drove us around until we found it, and, after that adventure, we headed home to bed!
Tomorrow I'll report on a bread workshop with Peter Reinhart
and Nancy Baggett
, the Willamette Food Cart Festival, the Farmers' Market, and a visit to Whole foods (Saturday was a busy day!).
Cheers!
Posted by

Bryanna Clark Grogan
at 4:03 PM