Bryanna Clark Grogan's Vegan Feast Kitchen/ 21st Century Table: The kitchen journal of a vegan food writer.. I'm on Facebook and Twitter (see links in sidebar at right).
Friday, August 28, 2009
THE BEST SCRAMBLED TOFU!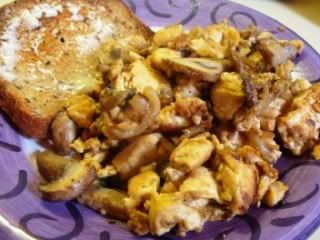 No, it's not really my recipe. It's my version of Julie Hasson's recipe, and we love it! It's not dry and almost tasteless like other tofu scrambles I've sampled. We have been eating very simply these days (between guests) and this recipe just seems to be the ticket when you want something quick, tasty, simple and versatile. Even my picky brother-in-law liked it!
I
really like this recipe when made with medium-firm tofu pressed for 1/2 an hour
in the
Tofu Xpress
gadget that
I blogged about here
, and
Julie blogged about here
. The tofu is firm, and yet has a silky texture that really "feels" like scrambled egg! UPDATE AUG 2012: Recently I blogged about a new tofu press, larger capacity, handmade wood, that would work much better if you are using this recipe for a crowd. You can
order it here
, and
read about it (with pics) here
.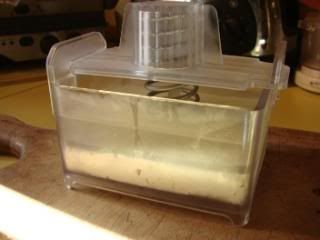 Medium-firm tofu pressed for 1 hour

. (Update: I now press it for only about 1/2 an hour-- it's your choice!)
In the recipe below, I use 16 oz. of medium-firm tofu pressed for about 1/2 hour in the
Tofu Xpress
, which results in about 12 to 8.2 oz. firm, but smooth and silky, tofu. If you do not own a tofu press, you can find various methods on the Internet. Here is a good one, but I don't think it's necessary to press for 24 hours, as it says! You can see how much water is in the press in the picture above, and you should get as much out with a similar amount of pressing time using the method I linked to.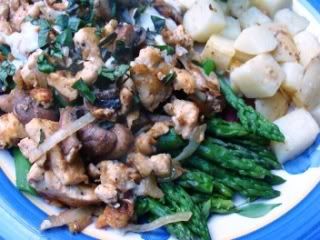 We had Julie's Tofu Scramble over steamed asparagus for dinner the other night-- very satisfying!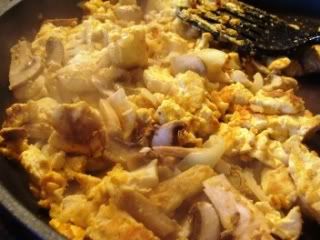 Cooking the tofu
Printable Recipe
MY VERSION OF JULIE HASSON'S YUMMY TOFU SCRAMBLE Servings: 2-4
Julie says, "I love to serve this scramble with toasted bread for breakfast, or with gravy and quinoa for dinner. Any way you serve it, Tofu Scramble is great anytime of the day." I agree! We sometimes have it for dinner served over roasted or steamed asparagus, and sometimes I add strips of bell pepper, or a tablespoon of vegan "bacon bits" or chopped vegan "bacon" or "ham", or a bit of pesto, etc., to the mix.
4 teaspoons oil, divided
16 oz. medium-firm water packed tofu, rinsed and pressed for 20 to 30 minutes
(see text above)
2 tablespoons nutritional yeast flakes
1/2 teaspoon turmeric
1/2 teaspoon granulated onion (or onion powder)
1/4 to 1/2 teaspoon granulated garlic
1 small onion, very thinly-sliced
Sliced mushrooms (I use about four 2-inch ones)
Optional: Freshly-ground black pepper
1 to 1 1/2 tablespoons soy sauce or tamari (can be low-sodium)
Mix the nutritional yeast together with the turmeric, and granulated onion and garlic in a small dish, and set aside.

Heat a medium to large nonstick, cast iron or hard-anodized aluminum skillet over medium-high heat. (I use a well-seasoned spun carbon-steel wok.) Add 2 tsp. of oil so that the bottom of the skillet is very lightly coated. Break the tofu into small pieces and add them to the hot skillet. You can further break up any large pieces of tofu with a spatula. Let the tofu cook, stirring occasionally, until the tofu is starting to turn golden.
Sprinkle the nutritional yeast mixture over the tofu, stirring so that all of the tofu is coated.
Add 2 teaspoons more oil to the skillet, along with the sliced onion, mushrooms and garlic. Cook, stirring occasionally, until the onion is no longer crunchy.
Sprinkle with pepper (if desired) and drizzle with the soy sauce, stirring until liquid is absorbed.
Remove skillet from heat and serve the scramble warm, with toasted bread or hash brown potatoes, if desired.
Nutrition (per 1/4 of the recipe): 99.3 calories; 52% calories from fat; 6.1g total fat; 0.0mg cholesterol; 235.0mg sodium; 277.6mg potassium; 5.5g carbohydrates; 2.1g fiber; 1.6g sugar; 3.4g net carbs; 8.0g protein; 2.1 points.
Nutrition (per 1/2 of the recipe): 196.2 calories; 52% calories from fat; 12.2g total fat; 0.0mg cholesterol; 319.9mg sodium; 547.1mg potassium; 10.7g carbohydrates; 4.2g fiber; 3.2g sugar; 6.5g net carbs; 15.8g protein; 4.1 points.
Enjoy!
Posted by

Bryanna Clark Grogan
at 3:01 PM