Bryanna Clark Grogan's Vegan Feast Kitchen/ 21st Century Table: The kitchen journal of a vegan food writer.. I'm on Facebook and Twitter (see links in sidebar at right).
Monday, October 27, 2008
VEGAN MOFO: DOWN THE HOME STRETCH-- SOME PHOTOS AND A NEW SALAD DRESSING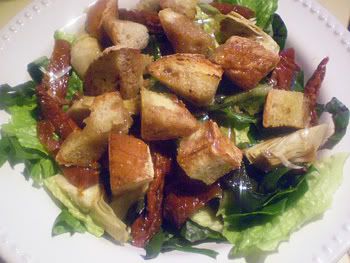 Romaine lettuce and chard salad with homemade garlic croutons, and marinated artichoke hearts and sundried tomatoes, with the new dressing below.

What is Vegan MoFo? Click here to find out!
This is a quickie blog post! Last night I made a variation on my vinaigrette dressing using smokey toasted sesame oil and fig balsamic vinegar, a new find! It is delish! It would be great on a spinach salad, BTW!

Delicious fig balsamic vinega

r is made by a number of companies (including President's Choice in Canada). If you "Google" it, you'll come up with a number of online sources.
Here's the recipe:
Printable Recipe
BRYANNA'S FIGGY- BALSAMIC-SESAME VINAIGRETTE (Low-Fat and WW Core Plan Compatible)

(with Raspberry Balsamic Vinaigrette variation)


Yield: 1 and 1/2 cups
The sesame oil lends a smokiness that blends well with the fruity vinegar.
1 cup aquafaba or Fat-Free Oil Substitute for Salad Dressings
1/4 cup dark sesame oil (OR use 1/2 sesame oil and 1/2 olive oil)
1/4 cup fig balsamic vinegar

(see text above)
1-2 tablespoons brown sugar
1 tablespoon rice or cider vinegar
1 tablespoon smooth Dijon mustard
1 clove garlic, crushed
1 teaspoon salt
Whisk, shake, or blend the ingredients together well, bottle and store in the refrigerator.
Nutrition Facts
Nutrition (per 2 tablespoons): 54.8 calories; 70% calories from fat; 4.6g total fat; 0.0mg cholesterol; 176.0mg sodium; 25.0mg potassium; 4.2g carbohydrates; 0.1g fiber; 2.2g sugar; 4.0g net carbs; 0.1g protein; 1.5 points.
BRYANNA'S RASPBERRY BALSAMIC VINAIGRETTE VARIATION:
The recipe is the same except for the following changes:
1.) For the oil, use 3 tablespoons olive oil plus 1 tablespoon dark sesame oil;
2.) Use only 1 tablespoon of brown sugar;
3.) Use Raspberry Balsamic Vinegar instead of the Fig variety;
4.) Use 1 tablespoon red wine vinegar instead of the rice or cider vinegar.
PHOTO TEASERS OF THINGS I MADE THIS WEEKEND:
Italian Seitan Pot Roast

(can be made in the oven or in a slow-cooker):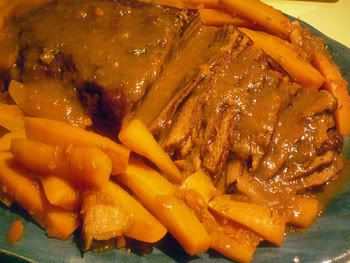 Spiedini Sandwiches made with Field Roast Grain Meatballs

(from the ongoing Field Roast cookbook I'm working on):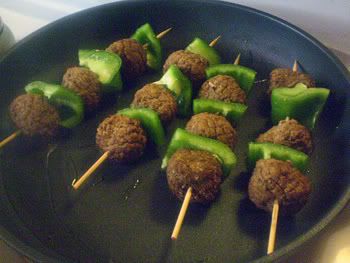 Spiedini are skewered, browned Italian "meatballs"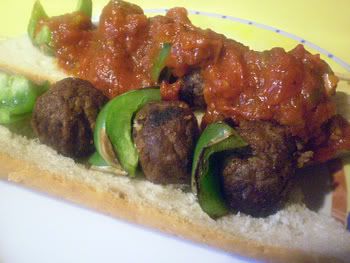 F

or sandwiches, they are browned and served on crusty rolls (I only had baguettes cut in 8" lengths) and topped with a tasty tomato sauce. They were pretty filling-- we ate them open-face.
Enjoy!
Posted by

Bryanna Clark Grogan
at 2:33 PM