Bryanna Clark Grogan's Vegan Feast Kitchen/ 21st Century Table: The kitchen journal of a vegan food writer.. I'm on Facebook and Twitter (see links in sidebar at right).
Thursday, November 15, 2007
POWER OUTAGE, SMOKED TOFU, AND VEGAN "FINNAN HADDIE"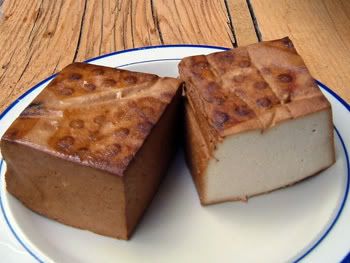 This is home-smoked tofu, but I often use Soya Nova Organic Smoked Tofu from Saltspring Island here in BC; or Pete's Soyganic Organic Smoked Tofu (from Vancouver).
UPDATE (October 24, 2008): I posted on how to make your own smoked tofu here!
Sorry I haven't blogged for so long! There was a combination of out-of-town company (here for my mother's 90th birthday), two close relatives having to go into hospital for emergencies (everyone will be fine, thank goodness), and, sigh....storm season is here again. We had a wind storm Saturday night. It didn't cause the same damage as
last year's big wind storm
, but we had no power from Sunday morning until Wednesday night.
This time the thunder was positively biblical and the rain came down in buckets! (At least we could collect lots of water to last us until the power went on again-- we have a pump.)
This kind of weather brings out the cravings for comfort food-- and one-pot comfort food at that, as we had to cook on a one-burner butane stove. The recipe below was one that I developed for an early issue of my vegan Feast Newsletter, when I had a craving for a childhood favorite.
If you haven't tried smoked tofu, you should!
It is very firm, smooth and tasty. You can eat it plain, or on crackers, or in a sandwich (especially good with vegan mayo and plum chutney!). It adds a smokey flavor that you would get from bacon, ham, or smoked fish or cheese, so use accordingly. There are a few brands available
(this info was updated Oct 1, 2011)
:
Soya Nova Tofu Shop
1200 Beddis Rd., Ganges, Salt Spring Island, BC, V8K 2C8
(250) 537-9651 soyanova@shaw.ca
Wildwood Foods
makes three kinds of smoked tofu.
Tofu Shop
in California makes smoked tofu.
Store locator.
Soyboy
is from NY and is evidently sold US nationwide-- "Our products are available at natural or health food stores, co-ops, or the natural food section of supermarkets."
In Toronto, check out http://www.yingyingsoyfood.ca/products.html#ts
Taifun Organic Smoked Tofu
is available online in the UK.
Blue Lotus Smoked Tofu
is available in Australia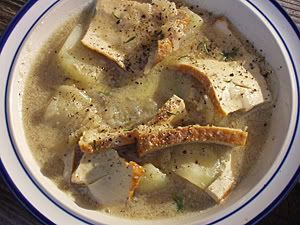 Vegan "Finnan Haddie" made with smoked tofu instead of smoked haddock! (It's a milky, potato-ey Scottish stew, and the recipe will be in a new book coming out at the end of 2010. UPDATE: Recipe here!)
Enjoy, and stay warm and dry!

Posted by

Bryanna Clark Grogan
at 11:58 AM