Bryanna Clark Grogan's Vegan Feast Kitchen/ 21st Century Table: The kitchen journal of a vegan food writer.. I'm on Facebook and Twitter (see links in sidebar at right).
Thursday, September 29, 2011
WORLD VEGAN FEAST TEASER: GROWN-UP NANAIMO BARS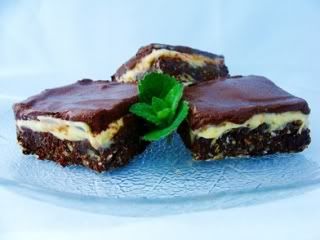 Grown-Up Nanaimo Bars
I'd like to introduce you to a dessert recipe in my new book
World Vegan Feast
(scroll down the extreme right hand column of the page for updates on other places to buy my book online, in several countries)
, a no-bake cookie bar (or square) with three layers: a chocolate-coconut crumb base, a sweet vanilla custard-flavored filling, and a chocolate top layer.
If you are Canadian, or live near the Canadian border, you'll know about the sweet gooey treat, Nanaimo Bars, which originated in the 1950's in the city of Nanaimo, just an hour south of where I live, on Vancouver Island (and where celebs Diana Krall and Kim Cattrall were born!). They are a wildly popular item in coffee bars and on dessert tables during the Christmas holidays.
As popular legend has it, a local housewife submitted the recipe to a magazine under the name "Nanaimo Bars" for a recipe contest. Her recipe won, giving it substantial publicity. It made its way throughout the province's communities. The earliest confirmed printed copy of the recipe "Nanaimo Bars" appears in a publication entitled "His/Hers Favorite Recipes", Compiled by the Women's Association of the Brechin United Church, in 1957.
Now there are many variations, including mint, mocha, and peanut butter. In Nanaimo,
Mon Petit Choux
on 120 Commercial Street (a great organic cafe/bakery) offers a light organic version with a French flair (not sure if it's vegan), and the
Blue Jewel Bakery
(at 3018 Ross Rd) and
Tea Leaf Specialty Teas
Cafe (at 13B Commercial St) offer vegan/gluten-free versions. (Oh, and if you aren't vegan and you like that sort of thing, you can get a deep-fried version at the funky
Pirate Chips
[at 1 commercial]!)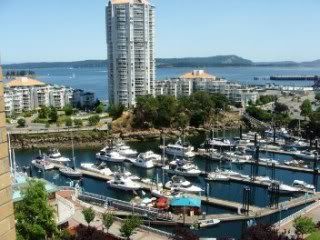 A view of Nanaimo harbour and marina from our 8th-floor hotel window last time we stayed there with friends.
Whatever the origin, they are extremely popular, but I have always found them too sweet. For years I have been meaning to make veganized, "grown-up" Nanaimo Bars, and I finally got around to it! The "secret ingredients" in the base give the bars a slightly bitter edge and extra crunch that counteracts the sweetness, as well as adding more fiber. A dollop of liqueur in the filling and the dark chocolate ganache topping adds sophistication. And since my filling contains only 1/4 of the usual "butter" called for (Earth Balance in this version, of course!), the whole recipe is lower in fat and calories than the original, and the flavor is far less cloying.
(BTW,I compared my recipe with an ordinary Nanaimo bar and mine have less sugar, less fat, NO cholesterol, and twice as much fiber and protein, but they never fail to please!)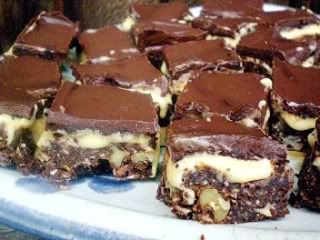 I hope you'll give it a try...Cheers!

Posted by

Bryanna Clark Grogan
at 1:01 PM