Notes from the Vegan Feast Kitchen/ 21st Century Table: The kitchen journal of a vegan food writer...For the 21st century we need to learn to cook for ourselves again, and learning to cook vegan can be a bit intimidating. I'd like to help with that, from my kitchen to yours. (Photo by Scott Hurlbert) I'm now on Facebook and Twitter(see links in sidebar at right).
Monday, February 21, 2011
TWO MORE DELICIOUS, NUTRITIOUS SOUTH AMERICAN GRAIN BEVERAGES

Last May I experimented with a
Latin American fruit and oat "smoothie"
, and we really enjoyed it. I began researching and discovered a myriad of Central and South American beverages made with grains. Indeed, South Americans seem to love grain drinks, and I think it's a fabulous idea to use different grains to thicken and enrich beverages. So, way back in May, I promised that I would experiment with more of these drinks, but the book sort of got in the way of much experimentation! However, I'm on a bit of a Peruvian and South American cooking roll, so I decided to try two beverages today. I'm very happy with the results and I hope you'll try them!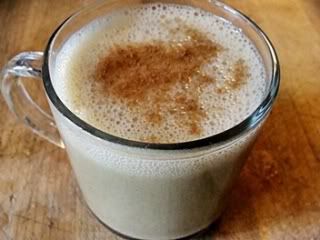 Printable Recipe
BRYANNA'S AGUITA DE MANZANA (PERUVIAN QUINOA AND APPLE BEVERAGE)
Servings: 5
NEWS FLASH: I've decided that this makes a MUCH better hot drink than a cold one!
"Aguitas" are Peruvian fruit drinks, but this one is also made with quinoa. This silky-smooth fruit and grain beverage can be served hot or cold. I thought it was too bland when made only with apples, but I had noticed one recipe online using quince as well as apple. I don't have any quinces around, but I know that they are sour and thought some acidity might add some kick to the drink. So, I added some orange and lemon, and that was perfect. Once you make this, it can be refrigerated and enjoyed cold, or heat up for a "hot toddy".
BTW, it contains more than twice as much protein as commercial rice, almond or oat milk, along with a respectable amount of fiber.
I'd love to hear about any successful variations you come up with!
1/2 lb. apples, cored, peeled and chunked
1/2 cup
quinoa
2 1/2 cups water
1/4 teaspoon salt
Additions:
1 cup water
1/4 cup brown sugar
1 medium organic orange, grated zest and juice
1 tablespoon lemon juice
1/4 teaspoon cinnamon
1/8 teaspoon ground cloves
Place the prepared apple, quinoa, 2 1/2 cups water and salt in a large saucepan and bring to a boil.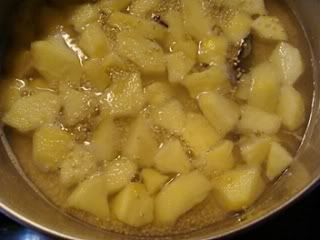 Turn the heat down to Low, cover and simmer for 15 minutes. Pour the cooked mixture into a large blender.
Add the remaining ingredients. Put the lid firmly in place on the blender, removing the center plug in the lid (to let steam escape) and cover the hole with a folded tea towel (held in place with your hand), so that you don't get an explosion of hot liquid.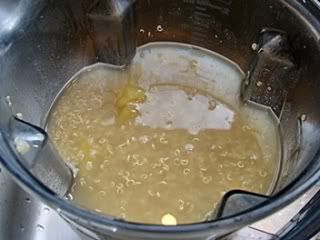 Blend continuously until a smooth mixture results and you can't see the little quinoa "tails" in it. Serve immediately for a hot drink, or refrigerate and serve cold. It can be reheated.
Nutrition Facts
Nutrition (per serving):
149.5 calories; 6% calories from fat; 1.2g total fat; 0.0mg cholesterol; 106.1mg sodium; 276.3mg potassium; 33.9g carbohydrates; 3.2g fiber; 15.2g sugar; 30.6g net carbs; 2.8g protein; 2.4 points.
*****************************************************
The Second Beverage: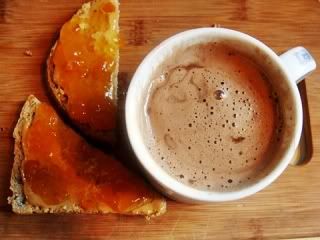 BRYANNA'S PERUVIAN HOT CHOCOLATE WITH OATS
Servings: 2 This recipe was updated and simplified on Feb. 16, 2012.
This is my version of a Peruvian hot chocolate recipe made with oatmeal. The original recipe called for bar chocolate and evaporated milk (ubiquitous in South America). But the oats make such a rich, thick drink that lower-fat (and less expensive) cocoa tastes as luxurious as chocolate. NOTE#1: you can cut the recipe in half if it's just for you! NOTE#2: For a not-quite-so-thick beverage, use the smaller amount of oat flour.
2 cups nondairy milk
2-3 tablespoons
oat flour
(for Oat Flour, you can grind rolled oats to a powder in a dry blender or clean, dry electric coffee/spice grinder)
2-3 tablespoons unsweetened,
organic fair trade cocoa
powder
2-3 tablespoons brown sugar
ADDITIONS
North American Traditional:
1 teaspoon pure vanilla extract (or you could use pure peppermint extract instead)
South American Traditional:
1/8 teaspoon cinnamon
2 pinches grated nutmeg
Mayan-Style:
In addition to the cinnamon and nutmeg, add a drop of pure almond extract and a pinch of cayenne pepper.
Mix the first 4 ingredients together in your blender at high speed until VERY smooth and a bit frothy.
In a microwave-safe bowl or pitcher (with room to froth up) in the microwave on High for 2 minutes, or until very hot, thickened and frothy on top. NOTE: If you are only making 1 serving, you can microwave it for 1 minute right in a large mug. (ALTERNATE METHOD: Heat the mixture gently in a small sauce pan over medium heat until hot and thickened, stirring frequently.)

Stir in your chosen Additions (or sprinkle on top), pour into 2 large mugs, and serve immediately.
Nutrition Facts
Nutrition (per serving): 156.3 calories; 23% calories from fat; 4.9g total fat; 0.0mg cholesterol; 138.3mg sodium; 188.6mg potassium; 26.5g carbohydrates; 2.9g fiber; 16.4g sugar; 23.5g net carbs; 7.7g protein; 2.9 points.
Posted by

Bryanna Clark Grogan
at 3:39 PM