Bryanna Clark Grogan's Vegan Feast Kitchen/ 21st Century Table: The kitchen journal of a vegan food writer.. I'm on Facebook and Twitter (see links in sidebar at right).
Monday, January 31, 2011
IN WHICH I TRY GARDEIN'S "MEATLESS CHICKEN BREASTS" WITH A PERUVIAN-INSPIRED SAUCE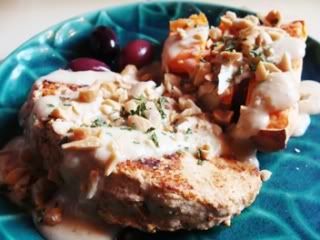 As you probably know, I haven't had alot of time or inclination for cooking lately, with
my dear Mom
's illness, hosting family members, and Mom's subsequent death and all that goes with that. So, we were eating store bought vegan foods more often. I saw Gardein's vegan "Meatless Chicken Breasts" (packaged for the President's Choice Blue Menu brand [Canadian], 8 in a box with no sauce--
Tal Ronnen
uses them in his cookbook) in the freezer section at out local Superstore, and decided to get a box to keep for quick meals for the 2 of us.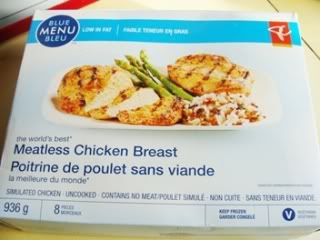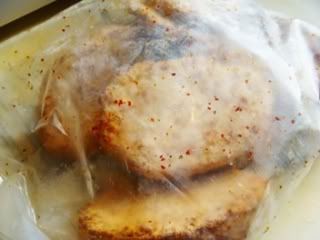 They have a rather alarmingly real look and texture!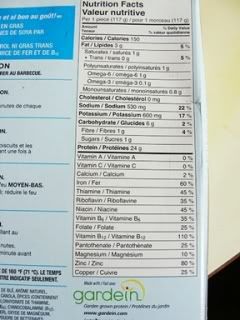 Only 150 calories and 3 g fat per piece
I've mostly used them in an Italian manner, with a light sauce of wine or fresh lemon juice, olive oil, broth, mushrooms and herbs. We have enjoyed them that way. They have a really chicken-like texture, but not alot of flavor. In my opinion, they need a good sauce!
The other night I had to make something quickly, and as I've been reading alot about Peruvian cooking and other South American cooking, I recalled a well-known (and delicious) potato recipe called Papas ala Huancaina (or Huancaya). I thought that the sauce would be a good foil for the Gardein product, since it is both creamy and spicy.
Unfortunately, it can be very high in fat (some recipes calling for 1 cup of oil, on top of cheese and evaporated milk!). So, I made quite a few substitutions. (That's why I'm calling it
"Huancaina-Inspired".) When I have time, I'm going to work on a version that is a little closer to the original, but still not so high in fat.
It is quite delicious, and I thought it was super-yummy on the Gardein "chicken breasts" with the addition of a sprinkling of chopped roasted peanuts. I served it simply with salad and a sweet potato, but rice and/or steamed yellow potatoes would be more traditional (rice is ubiquitous with most Peruvian meals). Oh, and just follow the directions on the package for stove-top cooking. It takes about 10 minutes.
Papas a la Huancaina (or Huancayo) are served like this:

On each serving plate, place a lettuce leaf.

Place a steamed Yukon Gold potato (still hot) on each lettuce leaf.

Place 3 black (kalamata or Alfonso) olives, 2 chunks of cooked sweet potato, 2 chunks of cooked corn on the cob, and 2 or 3 chunks of Potted Tofu (or commercial "Tofu Feta") around the potato. Coat the potatoes with the sauce, distributing evenly. Garnish with strips of pepper and chopped roasted peanuts. Serve immediately.
BRYANNA'S VEGAN, LOW-FAT HUANCAINA (OR HUANCAYA)-INSPIRED SAUCE
Yield: 2 cups
This may be a bit thinner than the traditional sauce-- I don't like my sauces too thick.
1/2 cup extra-firm SILKEN tofu
OR regular medium-firm tofu, crumbled
3 tablespoons unbleached flour
2 tablespoons nutritional yeast flakes
1 teaspoon vegetarian broth powder
, or paste
1 to 3 teaspoons
ají amarillo paste
(Peruvian hot yellow pepper sauce) (NOTE: if you cannot get aj
í
amarillo paste, use Sriracha hot sauce instead)
OPTIONAL: a little (about 1/2 teaspoon) turmeric to make the sauce more yellow-- the aj

í

amarillo will make the sauce yellow, but, if you don't like it spicy, you might not use enough to make it yellow. As you can see from my photo, I didn't use turmeric.
Additions:
1/2 a medium onion, minced finely and sautéed until soft in a little olive oil
the juice of approximately 1/2 a lemon (or to taste)
freshly ground black pepper to taste
Place all of the ingredients, except the pepper, in the blender
and blend until VERY smooth. Pour the mixture into
in a heavy medium saucepan. Stir over medium-high heat until it thickens and boils, then turn down and simmer on low for a few minutes.
MICROWAVE OPTION (this is what I usually do): In a large microwave-safe bowl or 1-2 qt. Pyrex measuring beaker/batter bowl
, cook the blended ingredients on full power for 1 1/2 minutes. Whisk
. Microwave for 1 1/2 more minutes. Whisk. Microwave for 1 1/2 minutes more.
Either way, stir in the sautéed onion, lemon juice and pepper to taste, and serve hot.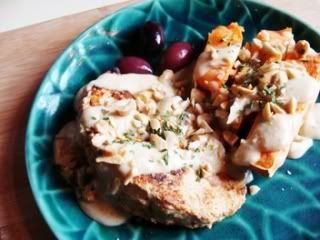 Enjoy!
Posted by

Bryanna Clark Grogan
at 2:22 PM