Bryanna Clark Grogan's Vegan Feast Kitchen/ 21st Century Table: The kitchen journal of a vegan food writer.. I'm on Facebook and Twitter (see links in sidebar at right).
Friday, December 10, 2010
RECIPES I MADE FROM 2 COOKBOOKS I RECOMMEND, AND A NEW TOOL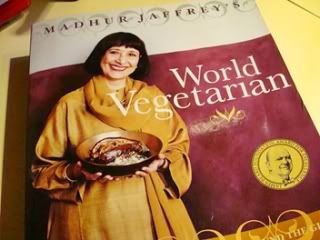 Last night we had dinner at our good friends Yoshi and Susan-Marie's house. Our hosts provided the bulk of the meal, our friends David and Carmen brought a lovely green salad, and I brought a bean dish and a simple dessert. The dinner wasn't Japanese, but was served somewhat in the Japanese style, with a number of small vegetable dishes to complement the rice. Yoshi made a delicious rice dish with yuba (beancurd skin) and mushrooms, and Susan-Marie served it with; a sweet and sour tomato soup with potatoes, steamed winter squash, marinated leeks and crostini. Most of the produce she used was grown in their own garden. The leeks tasted almost like marinated artichokes... so good!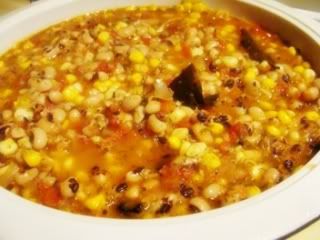 I brought a dish I blogged about before-- Madhur Jaffrey's Black-Eyed Peas with Corn and Dill from her book "World Vegetarian". I've been reading (and owning) Ms. Jaffrey's books for years, but "World Vegetarian" is my favorite. It's not confined to Indian cuisine, with over 600 recipes from five continents with endless flavor combinations for beans, vegetables and grains (and dairy, too-- but you can ignore that chapter or use vegan subs). This encyclopedic volume it is arranged so that you can look up the chapter, say, on "Dried Beans, Dried Peas, Lentils and Nuts" and check for, in my case this time, recipes featuring black-eyed peas, and you will find a few recipes utilizing whatever is the particular item you have in mind and in your pantry. You always find a new surprise because you are always looking at it in a different frame of mind from the last time!
The recipe I made (on p. 19) is one of my favorites. It's made with items that I always have in my cupboard and freezer (corn, dill, chiles, onions, etc.),and it's full of flavor and texture, but very easy to make. Diners are always surprised by the goodness of this homey but spicy dish.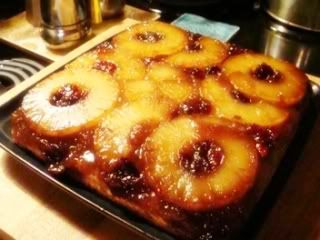 For dessert I brought the pineapple upside-down cake from Tamasin Noyes' recent and very popular book, "American Vegan Kitchen
". It was easy to make and turned out beautifully-- as you can see from the photo! The only changes I made were to use half wholewheat pastry flour in the batter, and substitute dried cranberries for the cherries in the topping. Our hostess asked me for the recipe because she, though not a vegan, would prefer to make this without the eggs and so much fat as her normal recipe. We ate the whole thing!
Tamasin's book is well-written, with clear instructions, lots of homemade basics (so you don't have to go buy all your components!), and the kind of recipes most us in North America remember with nostalgia!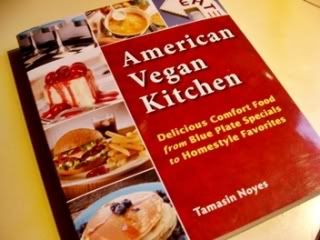 ********************************************************
Here's a photo of my homemade Almon

d Creme

whipped topping on top of a trifle (UPDATE: recipe from my book "World Vegan Feast", and shared here: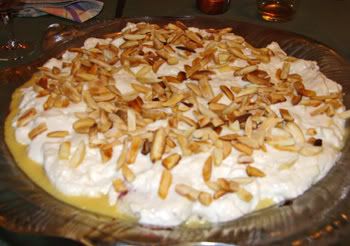 ******************************************************
NEW KITCHEN TOOL (GOT MY CHRISTMAS PRESENT EARLY!):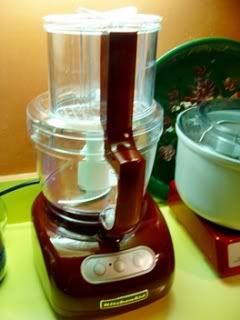 My new Cinnamon Red KitchenAid Wide-Mouth 12-cup food processor!
A few months ago my food processor died and I had to decide on a new one. The KitchenAid got rave reviews, but I couldn't afford the 12-cup one (over $300 in Canada!), so I got the 7-cup one with a small extra bowl for chopping small amounts. It's a great machine, but I missed having more room to do large batches, and my stepson said he'd buy my smaller one. Cook's Illustrated magazine reviewed food processors and gave the 12-cupper a rave review-- even better than the largest Cuisinart! Now they have one with "the largest feed-tube in the business!", called a "wide mouth"-- you can practically put 1/2 a small cabbage in there! I searched and searched for the best prices, locally and online, debating whether to go for the older 12-cupper, or the new wide-mouth. Price WAS an issue, even though I expect to get alot of years out of it.
Well, long story short, I found the wide-mouth (in Cinnamon Red-- not a popular color, I guess!) on eBay, IN CANADA (wonder of wonders), brand-new, in the box, for $179 (which included shipping!). That included all the 3 slicing and shredding discs, an egg whip (have to try it with egg replacer!), and a citrus press. (You can get this same one in white
in the States from amazon.com for $199 in the States; or in Candy Apple red
, with 4 discs for $228. But it was $273.75 Cnd. from amazon.ca and $379 in alot of places in Canada!. So, I'm happy, and my stepson is happy!
It should get a work-out during the holiday season, and looks very Christmasy, too!
Cheers!

Posted by

Bryanna Clark Grogan
at 4:50 PM


Labels: American Vegan Kitchen, black-eyed peas, corn, dill, food processor, KitchenAid, Madhur Jaffrey, pineapple upside-down cake, Soyatoo, Tamasin Noyes, vegan whipped creme, Worl vegetarian