Bryanna Clark Grogan's Vegan Feast Kitchen/ 21st Century Table: The kitchen journal of a vegan food writer.. I'm on Facebook and Twitter (see links in sidebar at right).
Thursday, May 27, 2010
BIRTHDAY CAKE AND TEA

Okay, I confess-- it was my birthday yesterday. But I'm being low-key about it this year. I made myself and DH a small, un-iced cake last night (we are having a casual celebration at a friend's house tomorrow, BTW). I wanted to try something different, so I pulled out a book that
I have reviewed on this blog earlier
-- "Enlightened Chocolate
" by Camilla V. Saulsbury.
Camilla's book isn't vegan, but she seems to think like me (or maybe the other way around!) in terms of flavor, when to use whole grains, and how to keep fat and calories to a minimum without sacrificing flavor and texture. Maybe that's why I like her book so much! (I don't read or buy only vegan cookbooks. If a recipe interests me enough, I can usually make it vegan!)
I decided to make her
One-Bowl Chocolate-Buttermilk Cak
e, which is just one layer and needs no icing. She described it as " not too sweet" and with a "delicate crumb texture". It was also made with wholewheat pastry flour and contained only 2 tablespoons of oil-- another bonus. I made a few changes to make it vegan and it lived up to expectations! Tender and moist (you'd never know it was whole wheat!), and really easy to make! Try it, you'll like it!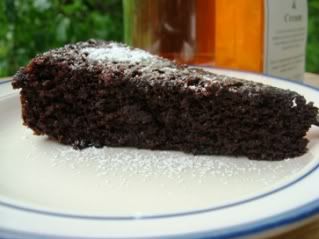 Printable Recipe
BRYANNA'S VEGAN VERSION OF CAMILLA SAULSBURY'S ONE-BOWL CHOCOLATE-"BUTTERMILK" CAKE
Servings: 8
Yield: 1/ 9" round cake
Adapted from a recipe in the book "Enlightened Chocolate
" by Camilla V. Saulsbury.
I made the slices a little bigger than Camilla's.
7/8 cup wholewheat pastry flour
(3/4 cup + 2 tablespoons)
1 cup packed brown sugar
1/3 cup fair trade, organic unsweetened cocoa powder
(NOT Dutch process)
1 teaspoon baking powder
1 teaspoon baking soda
1/4 teaspoon salt
1/2 cup soy
, hemp
or nut
milk
curdled with 1/2 tablespoon lemon juice or vinegar
2 tablespoons water whisked until frothy with:
1 tablespoon Ener-G
or Orgran
egg replacer powder
2 tablespoons oil (canola or any neutral-tasting one you like)
1 teaspoon pure vanilla extract
1/2 cup hot, strong brewed coffee or espresso
1 tablespoon organic powdered sugar
Preheat the oven to 350°F. Spray the inside of a round 9" cake pa
n with
homemade cake release,
or baking spray containing flour, or spray with oil from a pump sprayer
and dust with flour, shaking off all of the excess flour.
In a large bowl, whisk together the flour, brown sugar, cocoa powder, baking powder, baking soda, and salt. Add the curdled nondairy milk, the egg replacer whisked with the water, the oil, and vanilla. Beat for 2 minutes at medium speed with an electric mixer
or beater. Add the hot coffee and beat just until blended.
(The batter will be thin.)
Pour the batter into the prepared pan.
Bake for 30-35 minutes, or until a skewer inserted in the center comes out clean
(check at 30 minutes-- mine was done then)
. Transfer the pan to a wire rack
and cool 10 minutes. Invert the cake on a wire rack.
(NOTE: This cake is very tender, so I placed a piece of baking parchment
cut to fit over the cake before inverting it.)
Cool completely. Sift the powdered sugar over the top before serving.
Nutrition Facts
Nutrition (per serving): 186.7 calories; 11% calories from fat; 2.7g total fat; 0.0mg cholesterol; 240.4mg sodium; 317.9mg potassium; 41.1g carbohydrates; 2.9g fiber; 28.0g sugar; 38.3g net carbs; 2.9g protein; 3.4 points.
*******************************************************
About the tea:
My stepson's ex-girlfriend S., who is now married and has an adorable 3 year-old son, is still a good friend of all of us, and regards us kindly as sort of surrogate parents/grandparents. She had an impromptu birthday tea for me yesterday (with strawberries and chocolate truffles instead of cake-- yum!) and gave me this lovely
Libre Loose Leaf Tea Glass
,(along with some lovely teas from
the tea shop
in Courtenay, BC.--
Peaches & Cream
(Ceylon black tea, peach and papaya pieces, jasmine flowers, calendula, sunflower petals, blackberry leaves), and
Earl Grey Special
(Ceylon black tea, lemon peel, cornflower blossoms, lemon grass, jasmine flowers, oil of bergamot). (She knows I like black tea!)
As they explain on their website: "
This tea glass has a health conscious glass interior for fresh taste and a durable polycarbonate exterior for 'on the go' durability.

Its removeable stainless steel filter keeps tea leaves out of your mouth and makes cleaning easy. Also is a BPA free experience with a polypropylene filter surround and lid.

This tea glass can be used 2 ways – tea in the tea glass or tea on top of the twist off filter."
They also have a
Glass 'n Glass
version.
You can see in the following picture that it would be great for flowering tea
s (or blooming tea) and that the lid is quite beautiful:
In this photo, you can see the filter basket:
As
this review
says, "Because it's double walled, it will keep your drink warm or cold for about an hour. But it is build with a filter in it and designed for steeping your tea directly in it. You can either choose to leave your tea leaves in while you drink, or remove them.
'
The stainless steel filter in both models keeps the tea leaves away from your mouth and is easy to remove for easy access and easy cleaning when adding or emptying loose leaf tea
.'" (PS: From what I can ascertain, the unit is dishwasher-safe but NOT microwave-safe.)
And further on:
"I did notice that the mesh filter was too big for finer teas, like rooibos. But it is great for flowering teas and teas with larger leaves, like green or white tea. I also saw on their site that their working toward building one with a finer filter. If you loose leaf tea is a little too advanced for you, or if you just prefer bag tea, this glass would still be a great option. You can simply put the bag in and easily remove it."
I think I will use this at work because I don't usually get to finish a cup of tea, but this will keep it hot for an hour. (They aren't as elegant, but
here is another
make of the same type of thing; and
another
.)
This gift got me thinking that perhaps I should branch out a bit in my tea drinking. DH and I like a good brand of orange pekoe tea with a little soymilk as our primary hot beverage. (He drinks coffee more often than I do, made in a
stovetop espresso maker
with dark organic fair trade beans
. I just have the occasional soy latte or cappuccino.)
So, I am going to explore some different loose teas with my new tea glass. I remember that an old friend of mine mixed some
gunpowder tea
in with her black tea. It had a smoky quality to it that I liked. Hmmmmmmm.....
Have a nice cuppa!
Posted by

Bryanna Clark Grogan
at 2:58 PM