Bryanna Clark Grogan's Vegan Feast Kitchen/ 21st Century Table: The kitchen journal of a vegan food writer.. I'm on Facebook and Twitter (see links in sidebar at right).
Wednesday, December 30, 2009
COMING UP FOR AIR!

No recipes today! It is ironic that I spent the last week cooking and entertaining (mostly family) and cooking and entertaining some more, and I haven't had time to photograph or blog about it!
Suffice it to say that we ate too much and had a great time! I hope you did, too!
Tomorrow is the "last hurrah" before we go back to a more moderate eating regime, shall we say! My friend Jenny and her granddaughter, and one of my granddaughters, are coming to stay overnight, and we will have soynog (with rum for the grown-ups) and various goodies with some other friends. I WILL photograph and blog about that in the next few days!
For Christmas Eve we had vegan Tourtiere (Quebec "Meat Pie"), of course (DH is from Quebec). Dessert was my "Grown-Up Nanaimo Bars" (this recipe will be in a new book coming out late in 2010):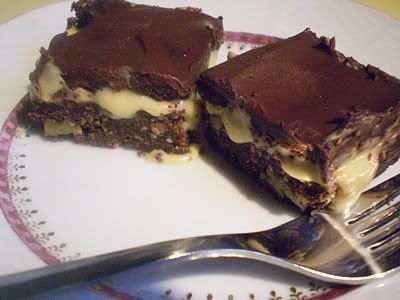 For Christmas Breakfast, we had fried potatoes with
smoked paprika
, vegan cornbread, and vegan or non-vegan scramble (it was a mixed group) with DELICIOUS Field Roast Chipotle sausage, which even the omnis in our midst were crazy about! (It's like chorizo!)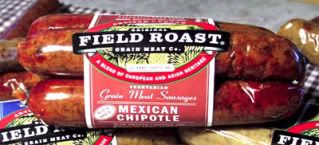 For Boxing Day (the day after Christmas), which was our big meal, we had my homemade Seitan Ham: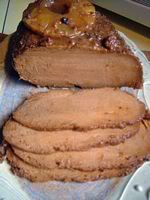 with mashed potatoes and "Ham Gravy";
Brussels Sprout Slaw
with Mustard Dressing and Maple-Candied Nuts; roasted sweet potato fries with
smoked paprika
;
Tofu Pot Pie
and Sage and Onion Stuffing (half wheat bread and half cornbread).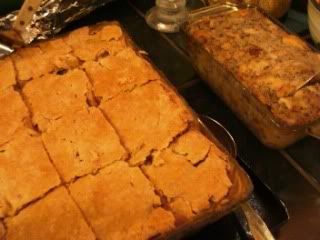 For dessert there was Panettone (Italian Sweet Bread), which my oldest daughter Bethany made; Butter Tarts and some chocolately bar cookies (which went superfast) that my middle daughter Sarah made, and vegan Trifle (this recipe will be in a new book coming out late in 2010) that I made using
Soyatoo!
Soy Whip/Topping Cream :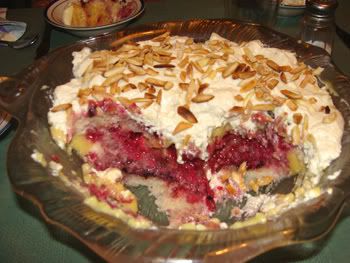 I think there was more, but I can't even remember!
We've been eating leftovers since then! We also had a big meal on Sunday with my sister Karin and her DH and daughter and a friend, and my son Tim and family, and my stepson Laurie and his girlfriend Meghan. It was a mix of leftover pot pie, stuffing and gravy, seitan "roast pork" with barbecue sauce, lots of salad and more roasted sweet potatoes and steamed potatoes topped with sauteed mushrooms and Daiya vegan cheese, more Trifle, chocolate, and melons. There were more people than I expected, so I had to make up a few dishes on the spot!
I'll check in after New Year's with some new recipes and photos. Have a great (and safe) New Year celebration (there's a
Blue Moon
that night-- did you know?)!!
Happy, happy!

Posted by

Bryanna Clark Grogan
at 5:10 PM