Bryanna Clark Grogan's Vegan Feast Kitchen/ 21st Century Table: The kitchen journal of a vegan food writer.. I'm on Facebook and Twitter (see links in sidebar at right).
Monday, November 26, 2007
THERE'S A BIG DIFFERENCE BETWEEN "GLUTEN FLOUR" AND "PURE GLUTEN POWDER" (VITAL WHEAT GLUTEN)!!

I had an interesting kitchen disaster yesterday, that I'd like to share with you. While testing recipes for a certain type of seitan, I was making a basic gluten mixture I have made it many times before. But this time it seemed so soft that I added 2 cups more of what I thought was pure gluten powder. When I cooked it, it seemed squishy. When it cooled off, I opened it up and it just fell apart instead of being firm and easy to slice.
I concluded that I was sold the wrong product-- "gluten flour", instead of "pure gluten powder" or "Vital wheat gluten". There is a big difference between the two and if you get the wrong product, your seitan will not be as it should! I was aware of this, but it had never happened to me before. I have purchased my gluten powder in bulk from the same store for many years. But evidently, the last batch I bought was "gluten flour". (I have contacted the store and they are going to contact their supplier.)
Here is a photo showing the loaves I made yesterday: the one made with gluten flour on the left, and the one made with gluten powder on the right: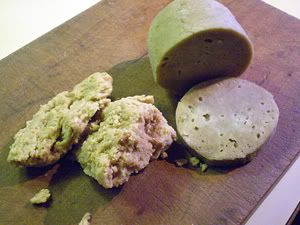 Gluten flour contains wheat gluten AND white flour-- about half and half. Gluten powder or Vital wheat gluten is PURE wheat gluten. Gluten flour is paler in color and feels silkier when rubbed between your fingers. Gluten powder is more creamy-beige in color and almost clumps up when you rub it between your fingers.
I did a little test with the new batch and the old batch, and found that I was right. I mixed 1 tablespoon of the new batch (the gluten flour) with 1 Tablespoon of water, and did the same with the old batch (the gluten powder). I could immediately see and feel the difference. The gluten flour mixture was more yellow in color and sticky, easy to squish into a thin shape. The gluten powder mixture was grayer in color and rubbery, with a texture that would not easily flatten out.
Here are pictures illustrating the difference: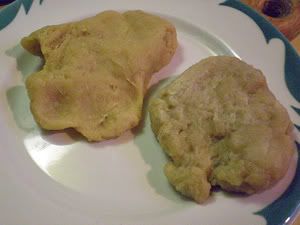 the one made with gluten flour on the left, and the one made with gluten powder on the right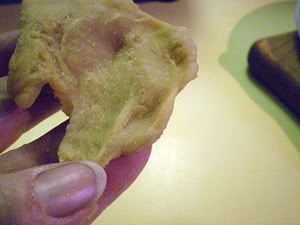 The one made with gluten flour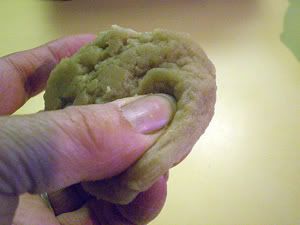 The one made with pure gluten powder (Vital wheat gluten)
So, if you ever follow a seitan recipe and the dough just falls apart, you know you were sold the wrong product!
RELIABLE BRANDS OF PURE GLUTEN POWDER:
Honeyville Farms Vital Wheat Gluten
Arrowhead Mills Vital Wheat Gluten
Hodgson Mill Vital Wheat Gluten with Vitamin C
Bob's Red Mill Gluten Flour
(They should change the name!)
Other sources besides the amazon.com links above:
http://www.pleasanthillgrain.com/grains_baking_supplies.aspx
http://www.canningpantry.com/vital-wheat-gluten.html
http://www.kingarthurflour.com/shop/items/vital-wheat-gluten-16-oz
http://www.bulkfoods.com
(go to "search" at the very bottom of the page and search for
vital wheat gluten
(click "exact phrase")
http://www.healthy-eating.com/product/Vital_wheat_gluten_flour/
(they call it "instant gluten flour")
Cheers!

Posted by

Bryanna Clark Grogan
at 11:38 AM