Bryanna Clark Grogan's Vegan Feast Kitchen/ 21st Century Table: The kitchen journal of a vegan food writer.. I'm on Facebook and Twitter (see links in sidebar at right).
Monday, March 28, 2011

I've said before that I read all kinds of cookbooks, not just vegetarian or vegan ones. Lately, I've been perusing a couple of books by the great British chef and author,
Nigel Slater
. He's not a vegetarian, but he does plenty of tasty and imaginative (but simple) things with vegetables and legumes. He's known for his uncomplicated, even fast, recipes.
The roasted onion soup recipe caught my eye because I love onion soup, but I don't always have time to caramelize onions, nor do I always have pre-cooked caramelized onions in the freezer. I tried it, with a few changes (noted below)-- it's a winner, rich in flavor and satisfying. "Why didn't I think of this?" kept running through my head!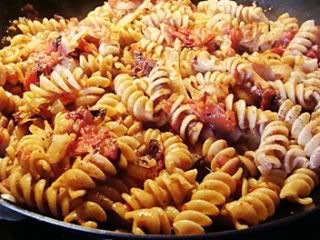 The methods of roasting, grilling and broiling all bring out the natural sweetness of vegetables and intensify their natural flavors. I even enjoy turnips and rutabagas when they are roasted-- and they are not usually my favorite vegetables! So it makes sense to incorporate roasted and broiled vegetables
(I actually find these methods less of a hassle than grilling!)
into recipes where you might usually use a stove top method.
Browning foods produces
umami
compounds, which create a "flavor explosion"!
Notice that the roasted onions in the soup recipe are cooked in white wine until the wine reduces almost to nothing. This further increases the flavor.
Why? To quote from a past blog post on "synergizing umami": "When you splash some wine into the pan to scrape up the browned bits, you are not only getting the flavors of the wine and the caramelized bits (double umami—8 times the flavor!), but you are also releasing some extra flavors that only alcohol can extract! How neat is that?"


Printable Recipe
VEGAN ROASTED ONION SOUP
Serves 4
Adapted from a brilliant idea/recipe from the great
Nigel Slater
. I'll make onion soup far more often this way, since it eliminates the time and careful watching of caramelizing onions! The roasting renders the onions every bit as sweet and tender, with a little bit of a "smokey" edge.
(My Changes: I cut down on the fat a bit; cut the onions into smaller pieces before roasting; used a whole grain sourdough bread for "croutons" instead of grilled French bread slices; and of course used a vegan broth and vegan cheeses.)
4 medium yellow onions, peeled and cut into quarters
2 tablespoons melted Earth Balance (non-hydrogenated vegan margarine) or olive oil
3/4 cup white vermouth or dry white wine (he said "a glass" and this was my interpretation)
6 1/4 cups (1.5 L) dark, rich-tasting vegetarian broth
(I used Better Than Bouillon No Beef Broth
Paste)
salt and freshly-ground black pepper
Garnish:
cubes of toasted whole grain sourdough bread (a handful per bowl—you'll need about 3 thickish slices)
grated white vegan cheese (such as Daiya)—about 5 ounces
OPTIONAL: vegan parmesan
Preheat the oven to 400°F. Spread the onions on a cookie sheet or baking pan and toss with the melted Earth Balance or olive oil. Sprinkle with salt. Bake the onions until the are tender and browned in places. I turned them over when the bottoms started to brown and I separated the layers after a bit, too. This takes about half an hour, but you don't have to stir or watch carefully.
When the onions are done to your satisfaction, cut them into thinner pieces (they don't have to be really thin or even all the same!). Scrape them into a soup pot and add the wine. Bring to a boil and the wine is almost reduced to nothing.
Pour in the broth it and bring to a boil. Turn the heat down and simmer the soup, covered, for about 20 minutes. Taste for salt and pepper.
To serve, ladle the soup into heat-proof bowl and add a fistful of toasted sourdough bread cubes to the top of each bowl. Sprinkle liberally with the cheese (both, if you like) and place the bowls on a cookie sheet and place under a broiler for a minute to melt the cheese. (Or, you can microwave each bowl separately for 30 seconds or so.) Enjoy!
Nutrition Facts
Nutrition (per serving): 340.3 calories; 45% calories from fat; 17.5g total fat; 0.0mg cholesterol; 1216.7mg sodium; 320.2mg potassium; 34.9g carbohydrates; 6.3g fiber; 8.1g sugar; 28.5g net carbs; 6.9g protein; 7.5 points.
*************************************************************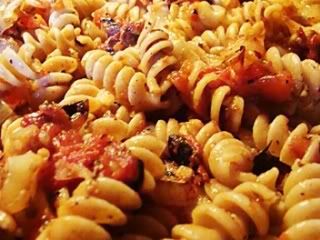 I wouldn't normally use fresh tomatoes at this time of year, but my brother-in-law brought some when he and my sister and my niece visited last week, and I needed to use them up. This is my version of another Nigel Slater recipe.


BROILED ROMA TOMATO AND ONION FUSILLI
Serves 4
Another brilliant idea from the great British cookbook author/chef,
Nigel Slater
. So simple and tasty! He broiled his veggies separately-- I did them together. He used thyme-- you can use whatever herb you enjoy.
I probably used less oil than he would have, judging by his other recipes, and I cut the onions into thinner slices
.
6 large ripe Roma tomatoes
1 tablespoon fresh herbs-- you can use basil, thyme, oregano, marjoram, or whatever you like (use 1 teaspoon dried if you have no fresh.)
2 tablespoons extra-virgin olive oil
2 medium yellow onions, sliced about 1/4" thick
2 large cloves garlic, minced
10 ounces fusilli
(or rotini
or gemelli
) (you can use a gluten-free pasta, if you wish)
salt and freshly-ground pepper
vegan parmesan
Cut the tomatoes in half lengthwise and then in 8 chunks. Place them cut-side-down on a baking sheet with sides, leaving room between the chunks. Sprinkle the onions and garlic and herbs in between the tomatoes. Drizzle with the olive oil and sprinkle with salt. Grind plenty of pepper on top. Place the pan under the broiler, about 3-4 inches below the heat source (depending on how hot your broiler element is-- you don't want to burn the vegetables before they are softened!).
While the vegetables broil, boil the pasta in a large pot of salted water for 10 minutes. Check on the vegetables every few minutes and turn them once in a while. The skins of the tomatoes should be blackened at least a bit and the tomatoes should be juicy and soft. The onions should be soft-ish and browned in places, too. Cut the tomatoes up a bit more with a knfe and fork and mix them up with the onions and juices.
Drain the pasta (save a bit of the cooking water) and add back to the pot. Add the broiled mixture and more salt and pepper to taste, if necessary. If the mixture seems too dry, add a bit of the pasta cooking water. Serve with plenty of vegan parmesan.
Nutrition Facts
Nutrition (per serving):
384.7 calories; 18% calories from fat; 8.3g total fat; 0.0mg cholesterol; 21.6mg sodium; 894.3mg potassium; 70.8g carbohydrates; 4.2g fiber; 9.8g sugar; 66.7g net carbs; 13.5g protein; 7.6 points.
Enjoy!
Posted by

Bryanna Clark Grogan
at 4:16 PM
4 comments


Monday, March 21, 2011

My friend Debbie's
Green Jackfruit Salad and rice paper crackers (an improvised alternative to Vietnamese sesame rice crackers!)
We invited our good friend Bev over for supper the other night. She's a busy person, so we don't get to socialize with her very often! I'm trying to eat lightly these days and I had some mung beans sprouts that I needed to use, so I thought I'd make a fragrant "Neatball" Pho
(read about Pho here; there's a recipe you can adapt for using vegan "meatballs"-- you could use commercial ones.).
I had lots of my homemade "Neatballs" (more about them below) in the freezer, so it seemed a good choice.
Of course, I forgot that we would need some fresh herbs, in short supply at the moment, and I couldn't go off the island that day! But, we managed, even if in a non-traditional way!
I used my recipe for vegetarian Pho that I posted on my blog here,
except that I substituted my "Neatballs" for the seitan "steak". Since I had no fresh herbs I sprinkled the noodles with dried mint, parsley and basil combines, and add strips of bell pepper for color, along with the thinly-sliced onion and green onions.
About those "Neatballs":
I can't give you the recipe here because they will be in another book I'm planning, but this invention is one I'm very proud of.
(UPDATE Aug. 2019-- neatball recipe post)
They can be made ahead and frozen (I made a batch of 150 last week!). They seem a bit like hard cookies when you're finished but, when they are cooked for 20 minutes or so in a broth or sauce, they plump up beautifully and have a great texture! You can add different seasonings to ther "Neatball" mixture, or you can simmer the basic ones in a seasoned broth appropriate to the dish you are making. They are very versatile for quick meals because almost all cultures have yummy meatball recipes which can be veganized!
Production of "Neatballs":
I simmered the "Neatballs" for the Pho in a broth of 4 cups vegetarian broth
with 2 tsp. Chinese 5-Spice Powder
.
The result, ready to add to the Pho:
I'll get to the jackfruit salad below, but I just wanted to mention what we had for dessert. In keeping with the light theme, I layered fresh mango slices with pineapple tidbits and topped it with a nonbdairy creamer and toasted coconut flakes:
Now, the green jackfruit salad.
I had this in a Vietnamese restaurant in Anaheim years ago, and I have never forgotten it! So delicious!
The salad supposed to be served with Vietnamese sesame rice crackers
(Banh trang me)
as "scoopers':
Before cooking (Debbie says you can get black sesame or white sesame)
after cooking-- crunchy and light!
How they roast them in Vietnam:
Debbie writes:
"
I was taught to microwave it for 1-2 minutes. So it is not fried and oily. It was good microwaved."
Of course, I didn't have any sesame rice crackers (I thought I had some papadam
, which Debbie often uses instead, but, alas, they had been used up!). I wracked my brain for an appropriate substitute and finally decided to try microwaving plain old rice papers (used for Vietnamese summer rolls). It worked!
I broke each one up into smaller pieces
and microwaved them for 1 minute.
The result was very nice and made good "scoopers" for the salad!
Finally, here is my friend Debbie's recipe for the jackfruit salad. Of course, I was missing the fresh herbs for this as well (
what was I thinking that day?
), and had to use dried, so it wasn't as good as it should have been, but the 3 of us ate the whole thing anyway!
Note:
I can purchase cans of green jackfruit in brine in my supermarket's Asian section, or any Asian grocery. You could also order it from an online Asian store, or amazon. The texture of this unripe fruit is almost like tuna when prepared this way! (
Here's some info
about jackfruit.)
Here's what the can looks like (may be a different brand):
Despite the many substitutions, it was a delicious meal!
Printable Recipe
DEBBIE'S YOUNG JACKFRUIT SALAD, VIETNAMESE STYLE
This young jackfruit salad is served at a vegetarian Vietnamese restaurant near my house. I love it so much and was able to copy it at home. It is served with Vietnamese sesame chips that are available in Vietnamese markets. But I substitute them with Indian pappadums since the Indian market is closer to my house than the Vietnamese one.
Ingredients:
2 cans of young (or "green") jackfruit in brine (NOT in syrup! see note above) (each can is 8 oz drained weight, total = 1lb.), drained, rinsed in water, squeezed and cut into strips (with the grain)
3/4 cup chopped shallots or green onions
1 cup loosely packed chopped Thai/Vietnamese basil
2 1/2 Tbsp Vegetarian "Fish Sauce"
(see about this
here
) or vegan Nuoc Cham (see Bryanna's recipe below)
1 Tbsp (Debbie says she uses more than this now) fresh lime juice
1 tsp miso (brown rice or barley) mixed with 2 Tbsp warm water
Serve with:
1/2 cup chopped dry roasted peanuts,1/4 chopped cilantro or Thai/Vietnamese basil,
Vietnamese sesame chips or Indian Pappadum
, fresh lime wedges and
Vegetarian "fish sauce" (see about this here) or vegan nuoc cham, and Sri Racha
Vietnamese style hot sauce
Preparations:
Preheat wok. When the wok is hot, add oil, garlic, and onion. Stir fry until fragrant. Add young jackfruit strips, salt, sugar, black pepper, and vegetarian fish sauce or soy sauce. Mix and stir-fry in high heat for 10 minutes until spices are absorbed to the jackfruit. Add a little water to the wok to prevent sticking.

Add lime juice and Thai/Vietnamese basil. Mix well for 1 minute.

Finally, add the miso mixture. Mix well for 1 minute.

Turn off heat. Set aside jackfruit in a bowl and let it cool.

Serve the salad room temperature on a plate with chopped roasted peanut and chopped cilantro/basil sprinkled on top.

Dot it with Sri Racha hot sauce on top and all over the salad. Each person can use the sesame crackers/pappadum to scoop the salad, dot with fresh squeezed lime juice and more vegetarian fish sauce.
Posted by

Bryanna Clark Grogan
at 1:09 PM
4 comments


Monday, March 14, 2011

A plateful of flavor!
The night before last we brought dinner over to our friends Sarah and Gordon. I've been kind of a hermit lately, and decided we need to get out more, and they have been working very hard on a project (and Gord is still recovering from broken ribs). We hadn't seen them for a while, so this was an opportunity to visit and give them a little respite for a couple of hours. I was making a dish from each of my new cookbooks and we had plenty to share. To tell you the truth, I haven't been terribly inspired in the kitchen lately, so I was hoping this would kick-start some creativity, as well.
It was a great evening and we ate almost everything! I made Goan Black-Eyed Peas with Coconut from "
The Indian Slow Cooker
", which was super-easy to make and delicious (and made a very generous amount!). My only criticism was that it was a bit on the salty side (and I'm not a no-salt person!)-- maybe there was a typo.
My 2 latest cookbook purchases
The vegetable dish was perfect-- quick and easy, flavorful, and utilizing staple veggies such as cabbage, carrots and frozen peas. This was the Cabbage Mixed Vegetables from my new copy of "
The Indian Vegan Kitchen
".
Sunji--Spicy mixed vegetables
For the "salad", I made a mixed vegetable raita from a book on my shelves, "
Indian Vegetarian Cooking at Your House
". It contained spinach, carrots, green onions, radishes and other goodies-- very good! Since I can't obtain a good tangy plain vegan yogurt, I used my
Tofu Sour Cream
instead of yogurt.
Vegan vegetable raita
The original of the raita recipe is from this boo
k.
I served the meal with some chutney I had in the refrigerator, poppadoms crisped in the microwave, and brown basmati rice.
Little poppadams crisped in the microwave with no fat
I wasn't going to make a dessert, but finally decided to make an Indian-style pudding that is a favorite of mine. It's adapted from a recipe in my
holiday cookbook
. The traditional dish is a thick, sweet mixture made from drained yogurt. My original recipe was not quite thick enough, I decided, so I revised it to squeeze much of the liquid out of the creamy silken tofu before blending it with the other ingredients. I also added rose water and a little tahini (or you can use almond butter instead) for more flavor and richness. We were more than happy with the results! I hope you like it, too.
Printable Recipe
BRYANNA'S TOFU SHRIKAND (GUJARATI "YOGURT" PUDDING)
Servings: 4
This delicious pudding is traditionally made with a rich drained yogurt. This vegan version utilizes drained silken tofu and lemon juice for a smooth, rich-tasting and tangy dessert that has amazed some friends who are devotees of good Indian cuisine. You have some lee-way with the sugar content in this recipe.
2 (12.3 oz.) boxes extra-firm silken tofu
, crumbled, drained and squeezed as directed below
1/2 to 2/3 cup light organic unbleached sugar
OR organic powdered sugar
1/4 cup lemon juice
2 tablespoons tahini
or almond butter
1/2 tsp salt
1/4 tsp pure almond extract
1/4 tsp grated fresh nutmeg
1/4 tsp ground cardamom
1/4 tsp Spanish saffron
soaked in
1 tablespoon hot nondairy milk
OPTIONAL:
4 tsp rose water
GARNISH:
grated lemon zest (preferably organic) and/or chopped toasted pistachio nuts or almonds
grated nutmeg
Line a colander
with clean cotton sheeting or fine cheesecloth
, with some over-hang. Place the colander in the sink. Crumble the silken tofu into the cloth-lined colander. Gather up the ends of the cloth and twist the cloth and squeeze to extract the water from the tofu. Twist and squeeze until you get as much liquid as possible out of the tofu. Place the squeezed tofu into a food processor
.
Transfer all of the remaining ingredients to the food processor and blend until VERY smooth. Scoop it evenly into 4 decorative pudding dishes or goblets. Cover and chill for at least 2 hours. Garnish before serving.
Nutrition Facts
Nutrition (per serving): 240.3 calories; 25% calories from fat; 6.9g total fat; 0.0mg cholesterol; 352.4mg sodium; 323.6mg potassium; 31.9g carbohydrates; 0.9g fiber; 27.2g sugar; 30.9g net carbs; 14.4g protein; 5.2 points.
Enjoy!
Posted by

Bryanna Clark Grogan
at 7:58 PM
1 comments