Bryanna Clark Grogan's Vegan Feast Kitchen/ 21st Century Table: The kitchen journal of a vegan food writer.. I'm on Facebook and Twitter (see links in sidebar at right).
Sunday, March 2, 2014

Farfalle (bowtie) pasta and rapini with Italian Walnut Sauce
I don't know why I haven't shared this sauce before- it's so luscious, creamy and so easy and quick to make. It is a specialty of the region of Italy where my paternal grandmother's family originated-- Liguria, a north-western Italian province that includes the Italian Riviera and the city of Genoa. Evidently, its origins are ancient. According to one of my uncles, my grandmother's family (who emigrated to Peru in the 1800's) came from the towns of Chiavari, Rapallo and Moneglia. I don't know much else about them, unfortunately. All I know is that her maiden name was Roncagliolo and her mother's was Guerrini.
I love the description in Laura Schenone's wonderful book about Ligurian food, "
The Lost Ravioli Recipes of Hoboken: A Search for Food and Family
". (It's not just a cookbook-- it's a wonderful read!) The author writes:
"The story begins at Genoa's port, with its ancient layers, its grittiness, its eye towards the Mediterranean Sea. here we cross paths with Greek, ancient Roman and Arab worlds during much earlier eras of globalization. Olives, wine, and wheat traveled along these water routes. Migrations began and ended...But the story also begins in the mountains, with ancient Ligurian people who were here thousands of years agom allied not with the water but with wood and stone. It's a story of steepness and difficulty, of chestnuts and mushrooms and gathered greens..."
This recipe, though lightened up (no olive oil or pine nuts) and made vegan, I think retains the character of the original. It is delicious served over ravioli stuffed with greens, or a simple dish of cooked linguine or tagliatelle. This time I used farfalle (bowtie pasta) and added chopped cooked rapini (broccoli rabe), which adds a nice slightly bitter note to contrast with the creamy nut sauce, and reminds me of my foremothers gathering wild greens in the hills beyond Genoa. I hope you enjoy it!
Printable Copy
BRYANNA'S VEGAN SALSA DI NOCI (CREAMY ITALIAN WALNUT SAUCE)
(GF and can be soy-free)
Servings: 4
Yield: 2 cups sauce
This is enough sauce for about 12 oz. pasta, plus 1 1/2 to 2 cups of cooked, well-drained vegetables. It's a modern, lighter version of a very ancient Ligurian sauce to serve on pasta or stuffed pasta (pansotti, or "potbellied" ravioli). Very simple to make! This is a slightly updated version of the recipe in my vegan Italian cookbook "
Nonna's Italian Kitchen"
.
NOTE: Traditionally, no pepper is used in this sauce
.
3/4 cups chopped walnuts
2 cups soy milk or nut milk
1 tsp vegan chicken-style broth
powder
or
paste
1 small clove garlic, crushed
1/4 tsp freshly-ground nutmeg
2 Tbs
GoVeggie Soy Parmesan
substitute or walnut-based
Parma!
or homemade walnut-based alternate
salt to taste
(about 1/2 tsp.)
OPTIONAL: 1 or 2 tsp. chopped fresh basil or marjoram
TO SERVE: More of the same vegan Parmesan sub of your preference to sprinkle on top of the pasta
Heat an
8" cast iron skillet
, or
other heavy skillet
, over high heat. Add the walnuts and reduce the heat to medium. Toast the walnuts, stirring frequently and watching them constantly, until they turn color a shade and smell toasty. Remove them from the pan.
Combine the milk, broth powder or paste, garlic, and walnuts in a
blender
and blend until smooth. Pour into a heavy 1 qt. or 1.5 qt
saucepan
. Bring to a boil over medium-high heat and keep at a low boil until it has reduced somewhat and thickened to a sauce consistency. Remove from the heat and add the nutmeg, optional herbs, if using and the Soy Parmesan (or alternate).
Taste for salt
(pepper is not traditional in this sauce)
. Heat gently before serving with cooked, drained pasta (see text above), alone or with cooked vegetables, such as chopped cooked rapini (broccoli rabe).
Nutrition Facts (for the sauce only)
Nutrition (per serving):
212.6 calories; 65% calories from fat; 16.3g total fat; 0.0mg cholesterol; 240.6mg sodium; 224.8mg potassium; 9.0g carbohydrates; 2.5g fiber; 2.8g sugar; 6.5g net carbs; 8.2g protein.
Enjoy!
Posted by

Bryanna Clark Grogan
at 2:09 PM
1 comments


Monday, February 17, 2014

Saturday we were expecting a big storm (which never really developed) and we had prepared accordingly. DH suggested that I bake something before we lost power (which we never did, this time). I decided on muffins, since I haven't made them in a long time. I had a bit of a craving for a maple/walnut treat, so here's what I came up with-- a light, moist whole grain muffin with just a little oil added to the batter. A great treat with tea or coffee.
Printable Copy
BRYANNA'S VEGAN MAPLE WALNUT MUFFINS
Yield: 12 muffins
Mix A:
1 1/2 cups whole wheat PASTRY flour (be sure to use pastry flour for a light muffin)
1 1/2 tsp baking powder
1/4 tsp baking soda
1/4 tsp salt
1/4 cup unbleached organic granulated sugar
2 Tbs brown sugar (Optional, if you like your muffins quite sweet)
Addition:
3/4 cup chopped walnuts
Mix B:
7 Tbs unsweetend smooth applesauce
6 Tbs Grade B maple syrup
1/3 cup So Delicious Original Coconut Milk Coffee Creamer or soymilk or nutmilk
1/2 Tbs lemon juice
2 Tbs oil
Additional:
a few tablespoons more maple syrup for brushing
Preheat oven to 375 degrees F. Spray a 12-cup muffin pan with oil from a pump sprayer, or grease with Cake Release (here's my homemade version).
In a medium bowl, mix together the Mix A ingredients. Stir in the walnuts. In a smaller bowl, whisk together the Mi B ingredients. Pour Mix B into Mix A and stir briefly. Divide the batter between the 12 prepared muffin cups. Bake for 15 minutes. Test one of the muffins with a toothpick to make sure they are cooked through.
Brush the muffin tops lightly with the extra maple syrup. Loosen the muffins with a table knofe and turn them on their sides to cool until they can be handled.
Nutrition Facts
Nutrition (per muffin): 178.5 calories; 35% calories from fat; 7.3g total fat; 0.0mg cholesterol; 68.3mg sodium; 190.9mg potassium; 26.8g carbohydrates; 2.4g fiber; 12.8g sugar; 24.3g net carbs; 3.2g protein.
Enjoy!
Posted by

Bryanna Clark Grogan
at 9:25 PM
2 comments


Thursday, December 22, 2011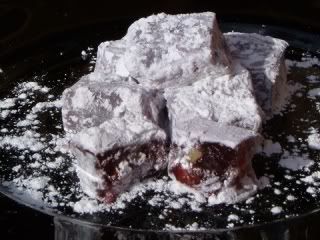 Before Christmas arrives, I'd like to share one more recipe from my new book, World Vegan Feast...a beautiful and mouthwatering modern version of a Christmas treat with over two centuries of history behind it.
I am not regular a candy maker, but one day I had some pomegranates that needed using, so I juiced them and decided to try making this old-fashioned treat for the first time, but with my own new flavoring combination. We had just seen the film The Chronicles of Narnia: The Lion, the Witch and the Wardrobe and Turkish Delight figured in the story:
"
Lokum, called Turkish Delight, plays an interesting role in CS Lewis' novel The Chronicles of Narnia and its Hollywood counterpart The Lion, the Witch and the Wardrobe, which was released in 2005. The film in particular introduced Americans to the age old Turkish candy. The White Witch of Narnia tempts young Edmund to bring his siblings to the ice castle with Turkish Delight. The irresistible temptation peeked the interest of many American viewers, and Turkish Delight sales hit a sudden high." From englishteastore.com)
Doing a little research, I discovered that
T
urkish Delight, traditionally known as Lokum, indeed originated in Turkey, invented in 1777 by famous confectioner named Bekir Effendi (known as Haci Bekir after his hajj pilgrimage). Haci Bekir owned a candy shop in the Bahcekapi district of Istanbul, which is still open today in the exact same location.
Haci Bekir's 5th generation descendants believe the first recipe for Lokum originated from an Anatolian candy traditionally made using honey or grape molasses (pekmez) and flour. Haci Bekir transformed this into Lokum, using the at-that-time-newly-available ingredient, sugar, and cornstarch (called cornflour in the UK and many other regions). Turkish Delight, or Lokum, if you prefer, has a soft, gelatin-like texture, often with chopped nuts inside, and
subtle
flavoring. It is cut into small cubes and coated in powdered sugar.
Lokum became very popular among Turks and Haci Bekir was appointed Chief Confectioner for the Ottoman Court and awarded a medal of honor by the Sultan. This jewel-like treat
was soon discovered by an English traveler who called the candy "Turkish Delight" and introduced it to Europe. Today, in many countries around the world, Lokum is still known as Turkish Delight.
Haci Bekir's confectionery
is the oldest company in Turkey to operate from its original location. It now has representative companies in several countries and , though
the original recipe for Lokum has changed very little, the company sells Turkish Delight in 12 flavors, but
not
pomegranate! I thought that pomegranate juice would be an ideal base for this candy, not only because of its tart/sweet flavor and nutritional qualities, but because if is beautiful color. Walnuts seemed to me to be an ideal addition. This actually turned out to be very simple to make and a very satisfying and eye-appealing Christmas treat.
BRYANNA'S POMEGRANATE AND WALNUT TURKISH DELIGHT
This candy is quite refreshing and very beautiful. The recipe is from my new book,
World Vegan Feast
.
NOTE: If you follow the links in the ingredient list, you can see that you can make this with organic, fair trade ingredients.
1/2 cup chopped, lightly-toasted walnuts
Mix 1 cup water with the pomegranate juice and set it aside in a medium saucepan.
Combine the sugar and 3/4 cup water in another medium saucepan over medium-high heat and stir until the sugar is dissolved and the liquid starts to bubble. Allow the mixture to boil, without stirring, until it registers 260ºF on a candy thermometer (this takes about 15 minutes).
While the sugar mixture is coming to temperature, sift the 1/2 cup cornstarch and cream of tartar together into the water/pomegranate juice mixture. Whisk it until all of the lumps are dissolved. Cook it over medium heat, whisking constantly, until it becomes very thick and clear looking. Reduce the heat to low and continue stirring with a wooden spoon.
As soon at the candy thermometer in the sugar/water mixture registers 260ºF, remove the mixture from the stove. Pour the hot mixture slowly into the cornstarch mixture, whisking vigorously. When it is thoroughly combined and formed into a thick sticky paste, add the walnuts and continue cooking, stirring all the while with a wooden spoon, over low heat for 45 minutes longer. The paste will continue to thicken during this time and should be very thick.
Microwave Option: I get impatient with making candy, which is one reason why I seldom make it, so. You can microwave it from the time you add the walnuts for approximately 20 minutes at 50% power.

Whichever way you cook it, when the paste is very thick, remove it from the heat and use a spatula to transfer the paste into a well-oiled 8-inch square baking pan. Press the mixture evenly into the pan. Place the pan in the refrigerator to cool for at least 2 hours. The finished product should be quite firm when cool.
Remove the pan from the refrigerator. The bottom of the pan should be cold. If it is still warm, chill longer.
Mix the remaining cornstarch with the powdered sugar. Spread 1/4 cup of this mixture over a sheet of baking parchment on your work surface. You should be able to lift the Turkish Delight out of the pan with your hands. Place the square of Turkish Delight on top of the powdered sugar/cornstarch mixture and spread more of it over the top of the square with your fingers. Once the square is covered on all sides with a layer of powdered sugar/cornstarch mix, use a sharp knife to cut it into 36 squares.
Toss the small squares with more powdered sugar/cornstarch mixture to coat them on all sides. Store the candy in an airtight container.
TIP: How to juice a pomegranate
Just cut it in half horizontally and juice it on a orange juicer-- I use a manual one. You get lots of juice out of one large pomegranate!
Posted by

Bryanna Clark Grogan
at 11:19 AM
10 comments