Bryanna Clark Grogan's Vegan Feast Kitchen/ 21st Century Table: The kitchen journal of a vegan food writer.. I'm on Facebook and Twitter (see links in sidebar at right).
Wednesday, March 12, 2014

I like combining traditional ingredients (Southern USA, in this case) in untraditional ways. This combo makes a delicious, fiber-and-nutrient-rich, colorful salad, which can serve as a hearty side dish or a meal in itself. It's a wonderful hot-weather dish, of course, but it's also hearty enough for a winter salad and utilizes staples you might have in your kitchen during cold-weather months. The zingy dressing is practically fat-free, too.
Printable Copy
BRYANNA'S SWEET POTATO AND BLACKEYED PEA SALAD
Serves 6
Salad:
3 cups cooked or canned blackeyed peas, drained
1 lb. orange sweet potato, cooked until firm-tender, peeled, and cubed
1 large green bell pepper, seeded and diced
1 medium red or yellow bell pepper, seeded and diced
6 large red radishes, cleaned and sliced
1 cup diced celery
3 green onions, chopped
Dressing:
1/2 cup
Oil Substitute for Salad Dressing
2 tablespoons balsamic vinegar
2 tablespoons olive oil
1 tablespoon soy sauce
1 tablespoon dark sesame oil
1 tablespoon agave nectar
1 tablespoon vegan mayonnaise (
homemade
or commercial)
1 tablespoon coarse-grained mustard
1/2 tablespoon maple syrup
1 clove garlic, crushed
1/4 teaspoon salt
Whisk, blend or shake all of the Dressing ingredients together. Mix the salad ingredients in a large bowl. Add the dressing (you may not need it all, but add more than you think you need because it soaks up some of the dressing) and stir well. Refrigerate for several hours and serve with crisp mixed greens.
Nutrition Facts
Nutrition (per serving): 304.0 calories; 22% calories from fat; 7.7g total fat; 0.0mg cholesterol; 327.1mg sodium; 715.0mg potassium; 51.6g carbohydrates; 10.6g fiber; 10.6g sugar; 9.6g protein, 5.9 points.
Enjoy!
Posted by

Bryanna Clark Grogan
at 8:36 PM
0 comments


Thursday, December 13, 2012


I'm attending a Hanukkah party tonight, which reminded me that there are only three more days left of Hanukkah, and I wanted to share a favorite latke recipe from my book "World Vegan Feast".
According to the Free Dictionary, latke means "A pancake, especially one made of grated potato.[Yiddish, from Ukrainian oladka,]". As you probably know, they are traditional fare in many Jewish homes during Hanukkah, usually fried in plenty of oil to celebrate the miracle of the Hanukkah oil. But what if you are vegan and you are trying to cut back on fat?
Good news-- yes, you can make delicious latkes without eggs and with only a small amount of oil (or even no oil-- see the alternative cooking methods below the recipe). This is my "fancy pants" recipe, but, if you don't want to bother with the grilled pears, you can serve them simply with the traditional applesauce and with Tofu Sour Creme (homemade or commercial) or Cashew Sour Creme. (You could even be a rebel and serve them with cranberry sauce.)
Printable Recipe
BRYANNA'S SWEET POTATO AND YUKON GOLD LATKES (POTATO PANCAKES) WITH MAPLE-PECAN GRILLED PEARS
Serves 4 (Can be Gluten-Free and Soy-Free)
A recipe from my book "World Vegan Feast"
This is a beautiful dish and a luscious combination of cold season vegetables and fruits. It can be the centerpiece for an elegant brunch at any time of the year, but is spectacular for a Hanukkah meal. This recipe can be easily multiplied as needed. The pears can be cooked ahead of time and the pancakes can be made earlier in the day, transferred to baking sheets (any size), covered with plastic wrap and refrigerated until just before cooking and serving.

Maple-Pecan Grilled Pears:
4 medium-sized ripe, but firm, pears, peeled, cored and thinly-sliced
4 teaspoons vegan butter, melted (try my homemade palm oil-free vegan Buttah)
2 tablespoons + 2 teaspoons maple syrup
1/4 cup lightly-toasted chopped pecans
Latkes (Potato Pancakes):
2 2/3 cups shredded peeled sweet potato
2 2/3 cups shredded scrubbed Yukon Gold potato
1 medium onion, shredded
1/2 cup whole wheat flour (or a gluten-free flour mix)
2 teaspoons baking powder
1 teaspoon salt
1/3 teaspoon freshly-grated nutmeg
freshly-ground black pepper to taste
3 tablespoons cooking oil for frying
To Serve:
Tofu Sour Cream or Cashew Sour Cream

Make the Grilled Pears before you start the pancakes. Turn on the broiler in your oven and place the rack on the top setting. You want the pears to be about 3 to 4 inches below the heat source. Transfer the sliced pears to a baking sheet (any size) and toss the slices with the melted vegan butter. Broil the pears until they start to brown around the edges. Stir gently and broil further, but don't burn them or make them too soggy.

Remove from the oven when they look appetizingly "grilled" but still hold their shape, and scoop them gently into a shallow bowl. Drizzle with the maple syrup and add the pecans, folding gently. Set aside.

To make the Latkes (Pancakes): Transfer both the shredded sweet potatoes and potatoes to a large square of cheesecloth (fine mesh, or layers of the coarser kind) or cotton cloth, gather in the corners and squeeze and twist them to remove as much of the liquid you can. This is important!Transfer the squeezed, shredded potatoes (both kinds) to a large bowl. In a smaller bowl, whisk together the flour, baking powder, salt, nutmeg and pepper. Add this mixture to the potatoes and mix well. (TIP: This mixture is more solid than the traditional egg-y latke batter.)

Divide the potato mixture into 12 equal "balls". Press the balls down on a sheet of baking parchment on your work surface or on a 12 x 17-inch baking sheet, to make pancake shapes.

Heat the half of the oil in a large nonstick, cast iron or hard-anodized skillet and carefully transfer the 6 latkes to the skillet using a thin non-metal spatula-turner. Fry the latkes in the hot oil over medium-high heat until golden and crispy on both sides. Repeat with the rest of the oil and latkes.
Serve the latkes hot and fresh, topped with the Grilled Pears and offer Tofu Sour Cream or Cashew Sour Cream on the side.
ALTERNATIVE FAT-FREE COOKING METHODS:
#1.) You can cook these latkes on several large
nonstick, cast iron or hard-anodized skillets, lightly-sprayed with oil from a pump sprayer, over medium-high heat. However, the easiest way is to use a nonstick electric pancake griddle-- this accommodates quite a few pancakes and they cook evenly.

Place 1/4-cupfuls of the potato mixture onto the preheated griddle or skillets. flatten them into thin pancakes with a spatula. Cover pans with lids or foil, or use inverted cookie sheets over the griddle. Cook until the bottoms are golden-brown, then flip them over and cook, uncovered, until the second side is golden-brown. Serve hot.
#2) Preheat the oven to 500°F. Flatten the pancakes as instructed above on nonstick cookie sheets, lightly-sprayed with oil from a pump sprayer, or with cooking spray. Bake them for 15 minutes, then turn the pancakes over and bake 5 or 6 minutes more.

Happy Hanukkah!
Posted by

Bryanna Clark Grogan
at 8:56 AM
2 comments


Thursday, November 1, 2012

I always make doughnuts for my granddaughters on Halloween-- it's a once-a-year ritual. I usually make quick drop doughnuts with a yeast batter, but this year I decided to make cut-out doughnuts. I had some sweet potato that needed to be used, so I reworked an old recipe for non-vegan doughnuts made with a potato dough. The dough didn't turn out as colorful as I'd hoped, but the doughnuts were delicious, and not even greasy. The girls lined up in their costumes (a zebra, a sock monkey, a devil, a skeleton, and a pig!) to fill their paper bags with the fresh, aromatic doughnuts, with a bag for Dad, too (much appreciated).
They trooped off for more trick-or-treating and fireworks at the Community Hall, and Nonna's duty-- a precious one-- was done for another year. Yes, we ate a few, but DH took the remainder to his son's house the next day to take temptation out from under out noses!
Makes 50 doughnuts (more or less)
2 1/2 cups warm plain original soy, hemp or almond milk
1 cup mashed cooked sweet potato (orange flesh)
6 cups unbleached white flour
3/4 tablespoon salt
1/2 to 1 tablespoon cinnamon
1/2 teaspoon allspice or nutmeg
6 cups additional unbleached white flour
2 to 4 tablespoons cinnamon
about 6 tablespoons Grade B maple syrup
until no lumps are left. Adjust thickness as needed. It should be a bit runny.
Place the dough in a bowl large enough for the dough to double and let rise in a warm place until doubled. At this point, if you are making it ahead, you can punch down the dough, cover it well and refrigerate the dough for 8-12 hours.
You can eat these warm or store in paper bags for a day or so after they are cool.
NOTE: You can even make these doughnuts without the 2nd rising (after cutting) if you are in a hurry. They won't be quite as tender, but they will puff up quite nicely!
Enjoy!
Posted by

Bryanna Clark Grogan
at 9:11 PM
3 comments


Thursday, September 20, 2012

Evenings are cool these days, even though the days are warm and sunny. As a consequence, I'm pulling out the soup pot more often. I do love soup, and find soup-making a wonderful way to use leftovers and bits and pieces that need using-up. I make large pots of soups of all kinds and my husband and I take leftovers for work lunches.
This soup was developed for a group of recipes I did for
"Dr. Neal Barnard's Program for Reversing Heart Disease
", which featured recipes that were not only vegan, but also fat-free, high-fiber, and low in salt and sugar, which was a challenge, because I wanted everything to taste yummy and full-bodied, too!
I wanted this soup to showcase time-honored Southern foods and flavors, which not only meld nicely with each other, but are colorful and eye-appealing as well. The soup is super fast and easy to make, economical, and very satisfying-- a whole-meal soup which could be accompanied by a scoop of rice in the middle of the soup plate, if you like, or some hot cornbread. I hope you enjoy it as much as we do!
Printable Recipe
BRYANNA'S BLACK-EYED PEA AND SWEET POTATO SOUP
Serves 6
This delectable, but easy soup contains Southern elements-- blackeyed peas, smoky flavors, sweet potatoes, and greens.
3 cups cooked or canned, drained black-eyed peas ( 2/ 15 ounce cans)
2 teaspoons dried oregano
1/2 teaspoon dried red chile flakes (optional-- see below)
4 ounces kale, collards, or other dark greens, cleaned, trimmed and thinly sliced
1 pound sweet potato, peeled and diced
OPTIONAL:
1 to 2 spicy vegan sausages
, sliced 1/4"-thick
(I like Field Roast Chipotle Sausages in this, but Tofurky Spicy Italian are good, too. If you use the Field Roast sausages, you might want to use fewer chile flakes, or omit them altogether, because they are quite hot.)
Steam-fry the onion and garlic in in a large heavy nonstick, cast iron or hard-anodized aluminum skillet sprayed with oil from a pump sprayer, or with cooking spray, until soft. (To steam-fry, saute over high heat, adding squirts of water as you cook-- just enough to keep the onions from sticking, but not enough to "stew' them.) Or, use the microwave option and place in a covered microwave-safe dish (such as a Pyrex casserole, or Pyrex pie plate covered with a Pyrex pot lid or another Pyrex pie plate, upside-down) and microwave at 100% power for 5 minutes.
Add the cooked onion and garlic to a large pot along with the broth, tomato paste, blackeyed peas, soy bacon bits, "ham" or liquid smoke, oregano, bay leaf, salt, chile flakes, greens, sweet potato, and vegetarian sausage. Simmer for 30 minutes, or until the sweet potato is tender.
Taste for salt and serve immediately.
Nutrition Facts (

Nutrition facts calculated using the optional 2 veggie "sausages".)
Nutrition (per serving): 260.1 calories; 9% calories from fat; 3.0g total fat; 0.0mg cholesterol; 486.2mg sodium; 782.4mg potassium; 43.6g carbohydrates; 9.8g fiber; 8.1g sugar; 32.8g net carbs; 18.4g protein; 4.7 points.
Enjoy!
Posted by

Bryanna Clark Grogan
at 4:45 PM
3 comments


Thursday, December 15, 2011

I almost forgot to announce this! Go to
this link for the recipe(s)
, which I developed a few weeks ago for the
So Delicious Dairy Free blog
, using their
Coconut Milk Beverage (Original)
in all three (dairy-free, soy-free, and gluten-free) components of the recipe.
These recipes might seem complex at first, but as you'll see, with all three components, you'll be creating a stupendously delicious dairy-free (and gluten-free!) meal—or you can enjoy the waffles, crispy sweet potatoes, or chik'n gravy served with your favorite accompaniments. And since most of the recipes can be made well ahead of time, this hearty meal will be a snap to put together when it's time to serve!"
Enjoy!

Posted by

Bryanna Clark Grogan
at 10:36 AM
4 comments


Friday, May 9, 2008

I'm off to Princeton, NJ and New York for a week, with my sis! I'll blog when I get back!
LOOKING FOR SOMETHING NON-PLASTIC IN WHICH TO STORE YOUR HOMEMADE SOYMILK? These are 1 qt./L Frigoverre glass storage jugs (made in Italy), and they were $4.99 each (Cnd) at London Drugs (UPDATE 2012-- they are now $5.99 and the make is Bormioli Rocco, but it's the same thing). Tight lid and easy to store; sturdy glass.
UPDATE 2014: These jugs are also available under the name "Amici" or "Quadro" (talk about confusing!), but now **the only place I can find the 1-L jugs online in Canada* is at the Kitchen Niche. They are a good company to deal with and have lots of specialty stuff.
Online sources for various kinds of glass storage jugs/pitchers in the US:
kaboodle.com
has a wide variety of glass refrigerator storage jugs, including
this one
.
A set of two 1 L jugs similar to the ones above, but with colorful lids at
amazon.com
, and also the
single one
with a white lid, but, oddly, they are more expensive than the Canadian ones above.
kitchenworksinc.com
also has a variety of storage pitchers.
SWEET POTATOES ON MY MIND....
Here's a yummy, no-fat soup we had for lunch the other day: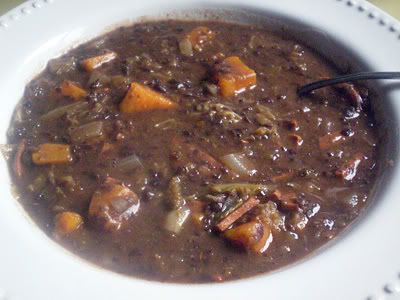 BRYANNA'S SPICY BLACK BEAN AND SWEET POTATO SOUP (WW CORE PLAN COMPATIBLE)
The combination of black beans and sweet potatoes is always enticing, but especially so in this soup with Caribbean flavors.
3 cups cooked or
canned
(2/ 15 ounce cans) black beans, rinsed and drained
3 cup low-sodium vegetarian broth (don't use more-- trust me!) (I like
Better Than Bouillon No-Chicken
Vegan Broth Base)
1 tablespoon tomato paste
1/2 tablespoon red wine vinegar
1/2 tablespoon
low-sodium soy sauce
1/2 teaspoon salt
1/2 teaspoon
garlic granules
OR 2 2 cloves garlic, crushed
1/4 teaspoon ground allspice
1/2 teaspoon dried thyme
1 bay leaf
1/2 pkg. (60 g) Yves Veggie Pizza Pepperoni (or any spicy vegan "sausage" or "deli slice"), cut into slivers
4 green onions, chopped
12-14 ounces sweet potato, peeled and diced
Mix together the beans, broth, tomato paste, vinegar, soy sauce, salt, garlic granules, allspice, and thyme in a
blender
or
food processor
. Puree coarsely. Pour into a medium-sized soup pot. (You can also do this right in the soup pot with an
immersion/stick blender
.)
Add the bay leaf, veggie pepperoni slivers, green onions, and sweet potato. Bring to a boil, stirring now and then. Reduce the heat, cover, and simmer for 30 minutes. Serve hot.
Servings: 4

Nutrition Facts
Nutrition (per serving):
273.1 calories; 2% calories from fat; 0.9g total fat; 0.0mg cholesterol; 513.8mg sodium; 842.1mg potassium; 50.6g carbohydrates; 14.1g fiber; 4.2g sugar; 36.5g net carbs; 17.5g protein; 4.7 points.
AND A TREAT: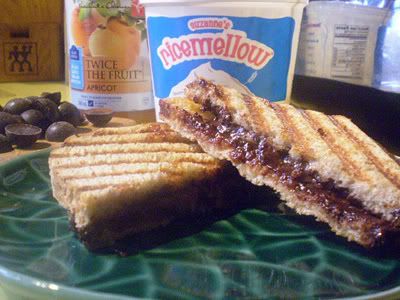 Chocolate panini.... some high-quality white bread, Ricemellow Creme (or you can use my homemade "Marshie Fluff", ; vegan, organic, fair trade chocolate; and low-sugar apricot jam. Yum!!
Enjoy!

Posted by

Bryanna Clark Grogan
at 4:39 PM
12 comments