Bryanna Clark Grogan's Vegan Feast Kitchen/ 21st Century Table: The kitchen journal of a vegan food writer.. I'm on Facebook and Twitter (see links in sidebar at right).
Saturday, September 21, 2013

My father,
Alejandro Jaime Urbina (photo below)
,
was Peruvian, so I have "veganized" over 30 well-known Peruvian dishes-- several of them are in my last book,
"World Vegan Feast"
.
The following recipe, from an earlier book of mine,
"20 Minutes to Dinner"
, is
loosely adapted
from the well-known Peruvian dish,
Arroz con Pato
, which is very similar to the ubiquitous Spanish
Arroz con Pollo
, but without the tomatoes. It's also a little spicier, and I like the Peruvian addition of a dark beer as part of the liquid.
http://www.embaperu.org.au/culture/gastronomy.html
Printable Copy
Posted by

Bryanna Clark Grogan
at 8:44 PM
2 comments


Monday, February 20, 2012

My Mom's (Vegan-ized) Chik'n with White Wine and Rosemary
This last weekend on the CBC Radio One program "North by Northwest" they were asking for readers' stories and experiences looking for lost childhood favorite recipes or foods. That got me thinking about my own childhood favorites. Of course, like most of us, I was not raised vegan, so some of my old favorites were "meaty". My late mother,
Eve Urbina
, was a great cook, but not a baker, so not many homemade desserts came to mind (we mostly had yogurt and fruit for dessert). But one of my real favorite from my Mom's repertoire was chicken sauteed in olive oil with white wine and rosemary, which resulted in a sticky, flavorful "goo" at the bottom of the pan, which she would mix with steamed long-grain rice to serve with the chicken.
So, I attempted a vegan version for our Saturday night dinner, using some Gardein-made meatless "chicken breasts" we can buy frozen in our local Great Canadian Superstore. The most difficult part is getting the "goo" at the bottom of the pan. I tried a trick from my Italian cookbook "
Nonna's Italian Kitchen
", agar-jelled broth, but made with
Better Than Bouillon No-Chicken Vegan Broth Paste
instead of my homemade broth from the book. However, despite my jelled broth addition and cooking it down, the residue in the pan refused to get as "sticky-gooey" as the original. That's probably because there was much more fat in my childhood version. But no worries— the resulting sauce was absolutely delish!
Do you have a "lost childhood recipe" or a commercial or bakery/restaurant childhood treat or favorite ", that you are looking for, or have found and want to vegan-ize, or that you have already succeeded in making vegan? I'd like to hear about it and, though I can't guarantee that I can do the vegan-izing for you, I'm happy to give you my two cents.
MY MOM'S "CHIKN BRESTS" WITH ROSEMARY AND WHITE WINE, VEGANIZED Servings: 4
This dish is extremely quick and easy to make, but one of my all-time favorites for flavor. I was trying to more-or-less replicate the chicken with white wine dish that my mother often made when I was a child growing up in a California winery. She would mix steamed long-grain rice in the pan in which the chicken and herbs had been cooked and scrape up the delicious, sticky residue to mix with the rice. You could do the same with this dish, if you like.
UPDATE: This reviewer loved the dish and he made it with my "Breast of Tofu" (recipe in most of my books), known as "Crispy Marinated Tofu" in "World Vegan Feast", instead of the "Chikn".
1/4 cup Seasoned Flour (see below)
1 Tbs extra-virgin olive oil
3 cups sliced mushrooms, white, cremini, or chantarelle
4 cloves garlic, minced
1 cup jelled "chicken-style" vegetarian broth (see below)
3/4 cup white wine, such as a Riesling (can be non-alcoholic) or a dry white wine with a little medium sherry mixed in
2 sprigs fresh rosemary, stripped off the stalk and chopped
freshly-ground black pepper to taste
Dredge the "Breasts" or Filets" or "Cutlets" in Seasoned Flour. Heat the olive oil in a
large nonstick skillet
over high heat. When the oil is hot, arrange coated pieces in the pan. Cook until one side is golden, then turn them over and cook until the other side is golden. Remove from the pan and set aside.
Add the mushrooms and garlic to the pan and sprinkle with a little salt. Stir-fry them over high heat, adding a tiny bit of water if they seem to be sticking (the mushrooms will exude a little liquid), until they start to wilt. Add the browned pieces back to the pan, along with the wine, jelled broth and rosemary. Cook over high heat, stirring gently now and then, until it cooks down and forms a thick sauce. Quickly remove from heat and grind pepper over the dish. Serve immediately over steamed rice or mashed potatoes (or mix the rice with any sauce left in the pan and serve the dish over that.)
Nutrition Facts
Nutrition (per serving): 251.4 calories; 23% calories from fat; 6.7g total fat; 0.0mg cholesterol; 794.0mg sodium; 842.7mg potassium; 14.9g carbohydrates; 2.6g fiber; 2.4g sugar; 12.3g net carbs; 27.3g protein; 5.1 points.
Cooking Tips
JELLED BROTH: Adding agar to vegan broth gives it even more body, enabling it to coat foods the way melted fat does. Mix 1 3/4 cups hot water in a small saucepan with 1 tablespoon Better Than Bouillon No-Chicken Vegan broth paste. Add 3/4 tsp. agar powder with 1/4 cup cold water and stir into the pot. Bring to a boil, then turn down and simmer for 3 or 4 minutes. Keep any leftovers refrigerated in a tightly-covered container. The jelled broth will melt when heated.
BRYANNA'S SEASONED FLOUR
Keep some of this in a tightly-covered container in the refrigerator-- you'll find many uses for it.
Posted by

Bryanna Clark Grogan
at 3:27 PM
23 comments


Thursday, December 29, 2011

I hope you all had a wonderful holiday! Ours was fun, hectic, and full of family! We had too much good, Christmasy food and still have lots of leftovers remaining, even though I sent some home with guests. After several days of this, I'm craving

rice, pasta, soup, tomato-y dishes, spicy food! So, when it's just us after the festivities, this is the sort of thing that does the trick...a really quick, nutritious and delicious dish, a simplified, veganized version of a Thai dish called "Praram", which is often made with chicken. (A birthday and the New Year to go now!)
Printable Copy
BRYANNA'S THAI-STYLE SPINACH AND TOFU WITH PEANUT SAUCE (SIMPLIFIED VEGAN "PRARAM")
Serves 3



Quick Peanut Sauce:


1/4 cup peanut butter


1/2 cup vegan broth


1/2 cup plain nondairy milk




2 tablespoons

coconut flour or creamed coconut
NOTE:

Instead of the soymilk and coconut flour or creamed coconut, you can use a generous half cup of lite coconut milk.




2 tablespoons Thai

sweet

chile sauce (there are many brands of this--

here's one)
1 tablespoon lemon juice (or 2 tablespoons lime juice)
1 tablespoon soy sauce
The rest of the dish:
2 tablespoons mushroom-based vegetarian "oyster" sauce (Lee Kum Kee brand is called "Vegetarian Stir-Fry Sauce", and I have a
homemade recipe here)
1 teaspoon dark sesame oil
a few shakes of Thai or Vietnamese hot sauce
1 tablespoon peanut oil, or other oil
12 ounces firm tofu (NOT silken), cubed
12 oz fresh, cleaned baby spinach
freshly-steamed basmati rice
Whisk together the peanut sauce ingredients in a small saucepan and heat gently. In a small bowl, mix 1/2 cup of this sauce with the vegetarian "oyster" sauce, sesame oil and hot sauce. Reserve the rest of the sauce in the pan.
Heat the peanut oil in a large nonstick skillet or wok. Add the tofu cubes and quickly brown them. Add the peanut sauce/"oyster" sauce mixture in the small bowl to the tofu. Stir this around until the tofu absorbs most of it.
Add the spinach to the tofu and stir over high heat JUST until the spinach wilts. Spoon the mixture immediately over steamed rice and top with the remaining peanut sauce.
Nutrition Facts (without rice)
Nutrition (per serving)
: 352.4 calories; 62% calories from fat; 24.8g total fat; 0.0mg cholesterol; 582.7mg sodium; 1049.2mg potassium; 15.9g carbohydrates; 5.1g fiber; 7.2g sugar; 10.8g net carbs; 19.7g protein; 8.3 points.
Happy New Year!

Posted by

Bryanna Clark Grogan
at 5:03 PM
1 comments


Tuesday, October 25, 2011


Don't forget to comment on

all the posts

if you want to win a copy of Big Vegan. If you are a twitter user, you can also tweet why you go vegan with the hashtag #bigvegan by midnight November 4 to enter to win a copy.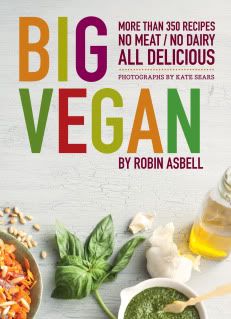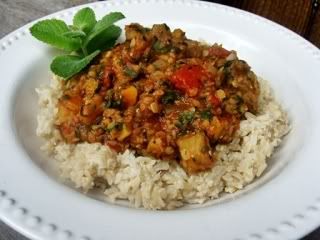 It's the 2nd
Big Vegan
(by Robin Asbell) Potluck day and I chose to make the
Armenian Red Lentil-Apricot Stew with Sesame Rice
. I love Armenian cooking and this sounded like a lovely blend of sweet and savory. The ingredients for the stew are so colorful!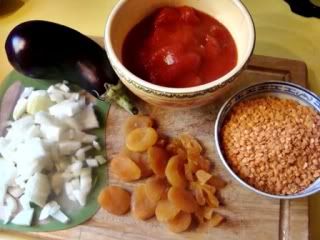 As Robin mentions in the book, all you need to make this a whole meal is a salad. A bonus is that it's a very easy meal to prepare-- a little chopping, rinsing the lentils, measuring out the spices and that's it, really!
After you get the stew simmering, you can start on the rice: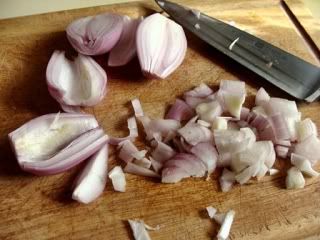 Chopping the shallots.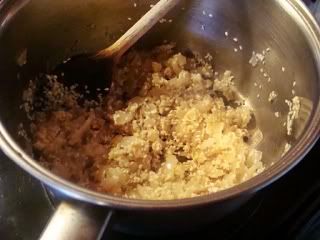 Sauteing the shallots, sesame seeds, and rice kernels before adding the liquid.
My husband and a friend shared this together and were all impressed by the combination of the rice bathed in mild humus flavors (tahini and lemon juice, in addition to the toasted sesame seeds) with the hearty, flavorful stew. We particularly liked the addition of the dried apricots, which added a real zing to the dish, already redolent of sweet and hot spices and the fragrance of mint. It is actually a perfect autumn meal!
ARMENIAN RED LENTIL-APRICOT STEW WITH SESAME RICE
Serves 6
Red lentils simmer into a creamy stew, piqued with bits of tangy apricot and tender eggplant. The warming spices make it even more delicious, perfect over the sesame-fortified brown rice.
1 cup/250 g
red lentils,
rinsed
1 medium onion, chopped
14 oz/400 g canned/tinned diced tomatoes
1 small Japanese eggplant/aubergine, peeled and diced
½ cup/85 g dried apricot, chopped
2 tsp paprika
½ tsp salt
¼ tsp ground cinnamon
1/8 tsp ground allspice
1/8 tsp cayenne
1 cup/30 g chopped fresh parsley
½ cup/15 g fresh mint, chopped
Rice:
1 tbsp extra-virgin olive oil
3 large shallots, chopped
¼ cup/35 g sesame seeds
1 ½ cups/320 g long-grain brown rice
½ tsp salt
3 tbsp
tahini
paste
2 tbsp freshly squeezed lemon juice
1. In a 4-qt/3.8-L pot, combine 1 qt/960 ml water, the lentils, and onion. Bring them to a boil over medium-high heat, then reduce the heat to a simmer. Cook for 10 minutes, stirring frequently.
2. Add the eggplant/aubergine, tomatoes, and apricots and simmer, covered, for about 20 minutes, stirring every 5 to 10 minutes.
3. When the lentils are falling-apart tender and the vegetables are also tender, add the paprika, salt, cinnamon, allspice, and cayenne and simmer for another 5 minutes to marry the flavors to bring the flavors together. Add the parsley and mint just before serving. Keep the stew warm while cooking the rice.
1. To make the rice:
In a 2-qt/2-L pot over medium heat, sauté the shallots in the oil . When the shallots are clear and soft, add the sesame seeds and sauté for 5 minutes.
2. Add 3 cups/720 ml water, the rice, and salt. Bring them to a boil, then reduce the heat to a low simmer and cover. Check after 35 minutes. When all the water has been absorbed, remove the pot from the heat and let it sit, covered, to finish steaming the rice, 5 to 10 minutes.
3. In a small cup, stir together the tahini and lemon juice, then fold them into the rice. Serve the rice hot with a ladleful of stew on top.
Robin Asbell
http://robincooksveg.wordpress.com/
Author of
Big Vegan
(Chronicle Books, Fall 2011)
Click here
to follow
Big Vegan's
virtual potluck and get more of Robin's recipes.
Enjoy!

Posted by

Bryanna Clark Grogan
at 12:13 PM
7 comments


Wednesday, March 31, 2010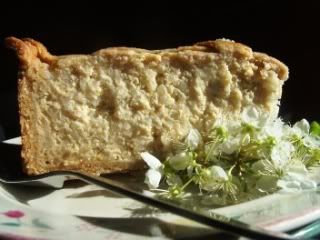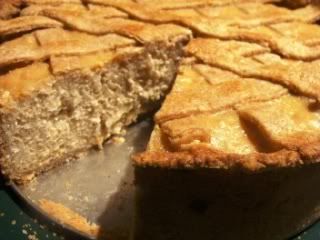 A reader wrote to me a couple of weeks ago: "Do you have any vegan recipes for the Italian wheat and rice pies that are served on Easter morning along with the frittata that my Grandma used to make? Thank you, Adrienne"
Of course, there is a vegan fritatta recipe in my book
Nonna's Italian Kitchen
. But, though I had heard about it, I had never eaten this pie. However, I do have a recipe for a vegan "ricotta pie" in that book, and I knew that this Easter pie contained ricotta, so I figured that I could work on it with that recipe as a start.
(BTW, I don't always create recipes on request! I am happy for suggestions for recipe "makeovers", if you will, but whether I try it or not depends on a number of factors: does the recipe appeal to us? are the ingredients available to me?are the any of the ingredients outrageously expensive and will I ever use them again?; Do I have the time? Does this dish fit our dietary likes and dislikes, etc..)
I did some research on the pie, and then decided to try the formula I came up with on some friends who were coming for dinner for St. Patrick's Day! I thought it turned out rather well, impressive looking,and we all loved it, but, since I had never actually eaten the "real thing", I had nothing to compare it to! So, I asked Adrienne to try it ahead of time, for her sake and mine-- maybe just half the recipe, which she did-- and give me an honest assessment.
Her verdict?
"Out of this world great."
This pie is traditional in Southern Italy. Adrienne's mother's parents came from two different parts of Italy, Calabria and Puglia, but their foods were nearly identical, she told me.
I made the pie with rice, but it is also sometimes made with pearl barley or even the
small pasta called orzo
instead of rice.
If you use orzo,
you can cook it the same way as the rice, using 2 1/2 cups of nondairy milk instead of 2.
If you use pearl barley
, soak the the grain in cold water to cover for 24 hours, then drain and cook in the milk as for the rice.
This pie is also sometimes made with
wheat kernel
s, which I suspect was the original version, since wheat and wheat breads are still powerful symbols of spring rebirth in Italy, harkening back to ancient times. I see no reason why it could not be made with
spelt
or
kamut
kernels or
brown rice
instead, but I have to try this out before giving you the directions! The whole grain for this pie is usually soaked for 3 days, changing the water each day, and then drained well and cooked in milk, but I can't say for how long or in how much milk until I try it.
I could also probably work out a soy-free version made with my "almond ricotta" from
Nonna's Italian Kitchen
, if necessary, but I'll have to experiment with that at another time.
It's a spectacular looking pie, and will feed alot of people! I think it would be great served with fresh strawberries.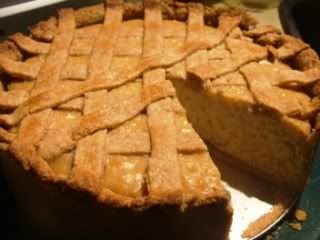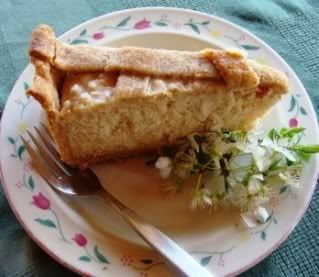 Printable Recipe
BRYANNA'S PASTIERA NAPOLITANA VEGAN (Vegan Neapolitan Easter Grain and "Ricotta" Pie)
Servings: 16/ Yield: 1/ 10 x 2 1/2" pie OR 2 shallow 9-10" pies


You can cut this recipe in half for a smaller gathering!
For a gluten-free pie, use rice as in the recipe and, for a gluten-free pastry, use 2 3/4 cups plus 1 1/2 tablespoons of my High-Fiber, Gluten-Free Flour Mix instead of all of the flour. The recipe for the Mix is at my friend
Brenda's website
.
The seasoning, of course, is a matter of taste. You may like more cinnamon, less orange rind, etc. -- it's up to you!
PASTRY (Vegan, lower-fat "Pasta Frolla"):
(you can use your own favorite Pasta Frolla recipe, if you prefer)
Dry Mixture:
1 1/3 cups white cake or pastry flour
1 1/2 cups all-purpose
whole wheat flour
(or, instead, you can use 1 1/3 cups
whole wheat pastry flour
and 1 1/2 cups
unbleached all-purpose white flour
)
1/2 to 3/4 cup
organic unbleached granulated sugar
, depending on your taste
1 1/8 teaspoons baking powder
1 1/8 teaspoons salt
Wet Mixture
:
9 tablespoons (1/2 cup + 1 tablespoon) soy or
almond milk
1/2 tablespoon lemon juice
9 tablespoons (1/2 cup + 1 tablespoon) oil
1 teaspoon lemon extract OR 1 tablespoon finely-grated organic lemon zest
3/4 teaspoon pure vanilla extract
FILLING:
Rice:
1 cup soy creamer
1 cup full-fat soymilk or almond milk
(OR you could use a total of 1 13/4 cups full-fat soy milk or almond milk with 1/4 cup of silken tofu blended in until smooth)
1 1/4 cups medium grain (or
Arborio
) white rice
2 tablespoons
organic unbleached granulated sugar
1 tablespoon pure vanilla extract
1/4 teaspoon salt
"Ricotta" Mixture:
2 lbs medium-firm tofu, drained and crumbled, plus
12 oz. firm tofu, drained and crumbled
1 1/2 to 2 cups
organic unbleached granulated sugar
(depending on how sweet you like it)
1/4 cup lemon juice
2 tablespoons oil
2 tablespoons orange flower water
(optional, but traditional)
2 tablespoons finely-grated organic orange zest
2 tablespoons finely-grated organic lemon zest
2 tablespoons cornstarch
1 tablespoon dry to medium sherry or Marsala
1 tablespoon pure vanilla extract
1 teaspoon
agar powder
1/2 to 1 teaspoon cinnamon, depending on your taste
1/2 teaspoon salt
Optional Addition (but traditional):
1/3 cup
candied orange peel,
finely chopped
(If you can't find this-- and it is NOT the same thing as "candied citron"!!-- you will find
an easy recipe to make your own here
. You can make it up to 2 weeks ahead of time.)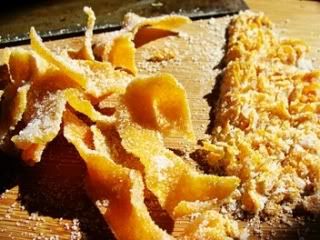 My homemade candied orange zest-- took only minutes to make!
soy or nut milk for brushing the pastry
INSTRUCTIONS:
To make the pastry:
Mix the Dry Mixture ingredients in a medium bowl. In a smaller bowl, whisk the soy or almond milk with the lemon juice, and then whisk in the oil and flavorings until the mixture is emulsified. Quickly stir this Wet Mixture into the dry ingredients and mix briefly, forming the pastry into a ball. If it's too dry, add cold water just a few drops at a time until it holds together. Don't over mix or the pastry will be tough.
If you are make one large pie make a ball with 2/3's of the dough and another ball with the last 3rd. If you are making 2 smaller pies, divide the dough into 4 equal pieces and roll into balls. Place in plastic bags and refrigerate until ready to roll out.
To cook the Rice for the Filling:
Bring the creamer and milk to a boil in a heavy medium saucepan. Stir in the rice, sugar, vanilla and salt, turn down the heat to Low, cover tightly and cook for 35 minutes, or until all of the liquid is absorbed. Scoop the rice out into a shallow bowl to cool. If the rice looks very dry, stir in a few tablespoons of non-dairy milk, but don't make it runny.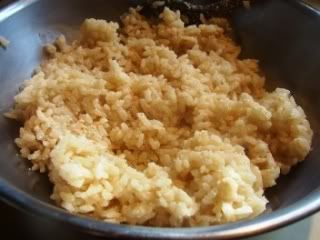 To make the Filling:
Place ALL of the "Ricotta" Mixture ingredients (except the optional candied orange peel) into a large blender, Vita-Mix or food processor and blend until very smooth. Scoop the smooth mixture into a mixing bowl.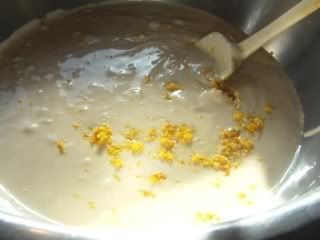 Add the cooled, cooked rice mixture and the optional candied peel, if using, and fold and stir until evenly distributed. Set aside.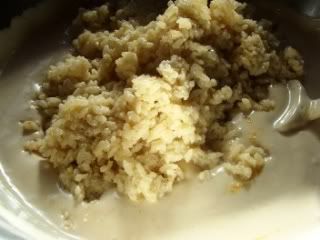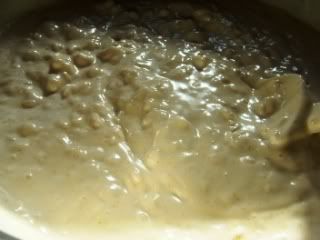 To prepare the pie(s) for baking:
Heat the oven to 350° F for the large pie or 375° F for the smaller pies.
If you are making a large pie, oil the inside of a round 10 x 21/2"
springform pan
. If you are making two smaller pies, oil two ordinary 9 or 10"
pie pans
. (For the smaller pies, since they are served right in the pie pan, Pyrex or ceramic pie plates would be preferred over metal pans for a more elegant look.)
If using the springform pan,
roll the largest ball of dough out on a piece of baking parchment (you shouldn't need any flour to roll this out on parchment) to make a circle 15" across (diameter). Carefully and loosely roll this around the rolling pan and gently unroll over the top of the prepared springform pan.
Gently ease the pastry down into the pan and secure it in place by pinching the excess dough to the top edges of the pan. Make sure that any cracks or tears are smoothed out and covered (use extra bits of dough, if necessary), and that the dough fits neatly into the pan.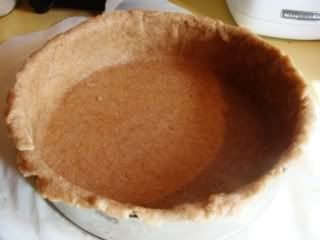 If using 2 smaller pie pans
,
roll two of the equal-sized balls to fit 9 or 10" pie dishes (with enough dough to overlap the rims of the pie dishes) and ease them into the dishes, gently fitting them into the pans and smoothing out any cracks. (There will be scraps of dough left over to fillout the rim of the crist, make patches, etc.).
To fill and decorate the pie(s):
Scoop the filling into the pie crust(s) (1 large or 2 smaller) and smooth the top(s). It should come up just about to the top of the pan(s).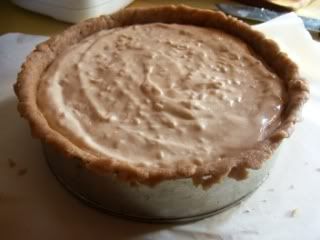 Roll out the remaining dough as if you were making a top crist for the springform pan or two top crusts for the pie dishes. Cut the rolled-out dough into 1/2"-wide strips, using a pizza cutter (or a ravioli cutter for a scalloped edge).
Make a latticed topping with the strips, following t
he picture instructions here
or the
video instructions here
.
(If you are in a hurry like I was when I was making this, just criss-cross the strips instead of latticing them!)
Press the ends of the strips into the dough at the rim of the pans to make sure they adhere.
With the large springform pan, cut the edge of the dough off carefully with a sharp knife on the OUTSIDE of the rim of the pan so that the dough sticks to the slim out edge of the pan.
With the smaller pie pans, flute the edge of the crust as you ordinarily would, making it look pretty, then cut the rough edges off the out edge of the pie with a sharp knife.
Gently brush the lattice with soy or nut milk, using a fine pastry brush. If you like, use scraps of dough to make leaf or flower shapes to decorate the top of the lattice pastry.
Bake the large pie
for 1 1/2 hours at 350° F.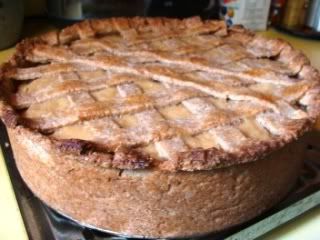 Bake the smaller pies
for 45 minutes at 375° F. Either way, a toopick or bamboo skewer should come out clean when inserted in the middle of the pie.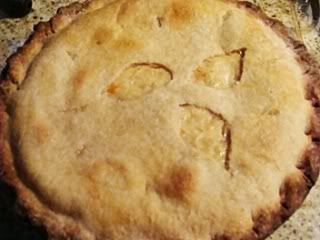 The smaller version-- I made 2-- in pie pans.
Cool the pie(s) thoroughly on racks (takes several hours), then refrigerate until serving time. Decorate the pies with flowers for serving, of you like. I think some fresh fruit, such as stawberries, makes a good accompaniment.
Nutrition Facts (calculated using soymilk and the lesser amount of sugar in both pie filling and crust)
Nutrition (per serving):
280.8 calories; 18% calories from fat; 6.0g total fat; 0.0mg cholesterol; 130.0mg sodium; 190.4mg potassium; 46.8g carbohydrates; 1.1g fiber; 22.2g sugar; 45.7g net carbs; 10.0g protein; 5.9 points.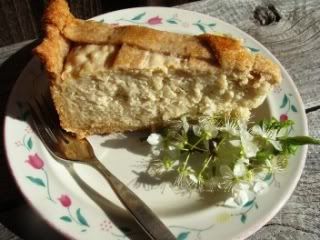 Happy Easter/Buona Pasqua!

Posted by

Bryanna Clark Grogan
at 10:21 AM
13 comments