Bryanna Clark Grogan's Vegan Feast Kitchen/ 21st Century Table: The kitchen journal of a vegan food writer.. I'm on Facebook and Twitter (see links in sidebar at right).
Saturday, December 1, 2012

I promised to post my recipe or vegan Chocolate Hazelnut Spread
(what most people know as "Nutella")
from my book
"World Vegan Feast"
this week, so I'm making good on my promise.
In Europe, chocolate is considered a food and, indeed, it does contain valuable antioxidants. Combined with nuts, it makes a delicious, nutritious (if high-fat) traditional Italian spread to use on toast or bread as you would peanut butter. I would recommend it as a treat, not an everyday commodity. Since most commercial brands contain hydrogenated fats and dairy products (and even the organic vegan commercial varieties contain palm oil), I prefer to make my own.
A
little
background: Gianduia (pronounced
jahn-DOO-yah

)
was invented in Turin during Napoléon's regency (1796-1814). Turin-based chocolate manufacturer Caffarel invented the paste "Gianduiotto" in 1852, taking its name from Gianduja, a Carnival and marionette character who represents the archetypal Piedmontese, a native of the Italian region where hazelnut confectionery is common. Nutella, the popular commercial brand, was originally called "Pasta Gianduja".
Since I had to make some to photograph, we are going to have to exercise restraint and not gobble it up too fast! It is very delicious and actually easy to make (especially if you use commercial hazelnut butter-- or almond butter, which makes an easily-available substitute).
If, for some strange reason, you don't use it all up, you can swirl it into muffin batter (see the second recipe below for
Gianduia Muffns
) or vegan ice cream, use it in sweet breads, or make chocolate panini with it (try it with apricot jam or sliced bananas and
vegan marshmallow creme
).
12 ounces vegan semisweet chocolate chips or vegan semisweet baking chocolate, coarsely chopped
4 ounces (1 cup) peeled, toasted hazelnuts (or filberts) (see the Tip below for how to peel and toast nuts)
1 tablespoon cooking oil
Tip: You can use 1/2 cup commercial hazelnut butter instead of the nuts and oil, if you prefer.
NOTE: If you don't mind being non-traditional, you can substitute almond butter for the hazelnut butter-- it's still delicious!

2 tablespoons organic powdered sugar
1 tablespoon soy or rice protein powder (NOTE: coconut flour would probably work, too)
1/2 teaspoon pure vanilla extract
3/4 cup nondairy milk, heated just to the boiling point
Melt the chocolate chips or chopped baking chocolate in the top of a double boiler over hot, not simmering water. Stir until smooth.
Microwave Option:
Microwave on 50% power in a microwave-safe bowl or measuring pitcher for 2 to 4 minutes or until the chocolate is shiny. Stir it well and set aside.

To make your own hazelnut butter, grind the hazelnuts and oil to a paste in your food processor. If using commercial hazelnut butter, transfer it to your food processor. Add the sugar, protein powder and vanilla and continue processing. Add the melted chocolate and the hot milk and process for several minutes, until very smooth. The mixture will be thin and warm, but it will thicken up when refrigerated. Pour into 3 sterilized 1/2-pint canning jars, tighten the lids and refrigerate. They will keep, refrigerated, up to 1 month.
Tip: How to peel and toast hazelnuts or filberts at the same time
Preheat oven to 400 º F. Transfer the hazelnuts to a shallow baking pan in a single layer. Roast them until the skins are almost black, about 10 minutes. Wrap the hot hazelnuts in a clean (old) kitchen towel and rub them in the towel until most of the skins have come off. Discard the skins.
***************************************************************************
Now, here's my favorite way to use the last of my Gianduia:
Printable Recipe
BRYANNA'S MOCHA GIANDIUA (aka "NUTELLA") MUFFINS
Actually, these are more like cupcakes-- you gotta love 'em! I cut the down the fat as much as I could, but they are still rich-tasting and moist.
6 Tbs smooth, unsweetened applesauce
1 Tbs instant coffee granules
3/4 cup plain nondairy milk whisked with
1 tsp pure vanilla extract
1 cups sifted unbleached white flour
1/2 cup homemade Gianduia (Nutella-like Chocolate Hazelnut Spread)
Cream together applesauce, vegan butter, sugar, and coffee powder with an electric beater. Add almond or soymilk mixed with the egg replacer and beat until fully incorporated. Add vanilla.
Stir in the dry mix just until the batter is uniform and no flour remains. Fill each muffin liner with batter. They should be 3/4 full. Top each cake with 2 teaspoons Gianduia. Swirl the Gianduia in with a toothpick, making sure to fold a bit of batter up over the chocolate spread.
Bake for 20 minutes. Remove to a wire rack to cool completely.
Nutrition (per muffin):
193.3 calories; 30% calories from fat; 6.7g total fat; 0.0mg cholesterol; 130.9mg sodium; 83.6mg potassium; 31.8g carbohydrates; 1.8g fiber; 13.4g sugar; 2.9g protein; 4.1 points.
Enjoy!
Posted by

Bryanna Clark Grogan
at 5:43 PM
2 comments


Monday, April 18, 2011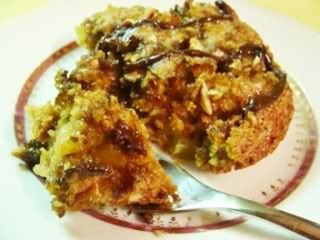 Apple/Pecan Crumb Cake with Gianduia Drizzle
Gianduia (pronounced "jahn-DOOya") is the original of Nutella
®,
BTW.
I make my own, and the recipe will be in my new book.
I haven't blogged dessert for some time, but last night we had an old friend visiting from Vancouver, which I thought was as good an excuse as any to make a dessert! But I didn't want it to be too rich, and I wanted it to be quick and easy, and made with whole grain flour(s). I decided that apples and pecans would be nice, and I also wanted to add just a little chocolate. I turned to the recipe in my book "The Fiber for Life Cookbook
" for Rustic Rhubarb Cake and tweaked it once again. It was really moist and delicious, and a little more elegant than the original. Just a nice little touch of chocolate. (I think it would work with a gluten-free flour mix
, too.) Our friend Brenda, not a vegan, just loved it and took some home with her. She had no idea that it was made from whole grain flour.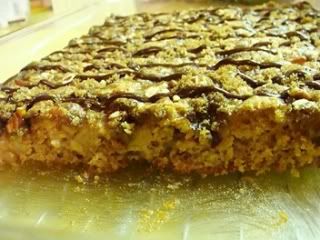 Printable Recipe
BRYANNA'S APPLE/PECAN CRUMB CAKE WITH GIANDUIA DRIZZLE
makes 1/ 9x13" cake
/ 12 servings
This cake is just fine served a little warm, and it 's even good for breakfast! The cake itself is quite low in fat, and you can cut down the pecans to 1/4 cup, if you like.

DRY MIX:
1 and 3/4 cups
wholewheat pastry flour
PLUS 1/4 c.
oat bran
OR 2 cups
wholewheat pastry flour
Tip: I think this recipe would work with a reliable gluten-free flour mix
, too.
1 tsp. baking powder
1/2 tsp. baking soda
1/2 tsp. salt
1/4 tsp.
ground ginger
1/4 tsp. ground nutmeg
2 cups chopped apples (I don't peel them if they are organic)
WET MIX:
1/3 cup smooth unsweetened applesauce
3 Tbs. oil
1 cup unbleached
organic granulated sugar
7/8 cup nondairy milk
1 tsp. pure vanilla extract
TOPPING:
1/2 cup
brown sugar
1/2 cup
chopped pecans
FINISH:
about 1/2 cup Gianduia (
chocolate/hazelnut spread) for drizzling
(UPDATE: I haven't been a palm oil-free vegan brand of this spread lately, but there's an easy vegan recipe for this spread in my new book, World Vegan Feast,and the the recipe is also on my blog here.)
Preheat oven to 350 degrees F. Grease a 9x13" cake pan.
Whisk together the Dry Mix ingredients in a medium mixing bowl. Stir in the apples. In a blender or with hand/immersion blender, blend the Wet Mix ingredients until smooth. Mix the Wet Mix into Dry Mix, stirring as briefly as possible. Spread into prepared pan. Mix the Topping ingredients together in a small bowl. Sprinkle the Topping evenly over the cake.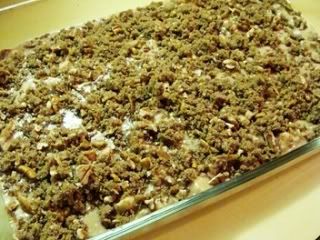 Bake 35 minutes. Test for doneness. Cool on a rack.
Scoop the Gianduia (Chocolate/Hazelnut Spread) into a small heat-proof bowl.
Place the bowl in a larger bowl and add very hot water to the outer bowl. Let it sit until the spread is a bit runny. Scrape the spread into a small food-safe squeeze bottle. Squeeze a thin line of chocolate spread in whatever way you like it, but not too much!
Serve right out of the pan, cut into squares.
Nutrition Facts Nutrition (per serving): 384.0 calories; 39% calories from fat; 16.9g total fat; 0.0mg cholesterol; 13.8mg sodium; 182.0mg potassium; 56.0g carbohydrates; 4.8g fiber; 39.0g sugar; 51.2g net carbs; 3.9g protein; 8.3 points.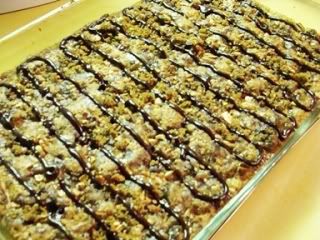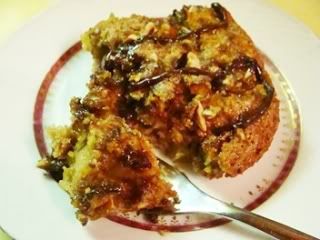 Enjoy!

Posted by

Bryanna Clark Grogan
at 3:10 PM
13 comments