Bryanna Clark Grogan's Vegan Feast Kitchen/ 21st Century Table: The kitchen journal of a vegan food writer.. I'm on Facebook and Twitter (see links in sidebar at right).
Wednesday, November 19, 2008
A NEW, IMPROVED NO-OIL HUMMUS RECIPE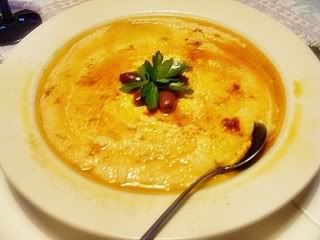 I spread a little very good extra-virgin olive oil on the top of the hummus, but you can omit that if you wish. You can also serve hummus like this in the Middle Eastern fashion, spread out on a plate or platter-- it's easier to share that way!
*******************************
Actually, this recipe not new anymore, since I developed it in the summer for the
McDougall Celebrity Weekend
. But, I never got around to sharing it on my blog. So now I am!
Most versions of this popular Middle Eastern chickpea dip are chock-full of olive oil and too much sesame tahini. I have been making low-fat hummus for many years, but, for the McDougall weekend, I wanted to make the best-tasting, creamiest hummus possible! I consulted Cook's Illustrated May 2008 issue, which had a feature on making hummus, but of course with olive oil added and far more tahini than I was willing to use. I adjusted my familiar seasoning a little and combined their emulsion method with my "hot chickpea" method, except that, since I was not mixing the tahini with oil, I warmed the tahini first to make it more "pourable".
My new improved recipe contains just a little tahini, but it's truly creamy and rich-tasting, due to good ingredients, more flavor, and a couple of new techniques.
Guests and family, as well as the McDougall participants, seemed very impressed by this recipe, and I have been known to even eat it for breakfast! It's a great spread to have around for snacks, and it's far better (and cheaper) than any store bought hummus that you can buy! Try some of the variations below the recipe.
Printable Recipe
BRYANNA'S NEW,IMPROVED CREAMY NO-OIL HUMMUS (WITH A FEW VARIATIONS) (WW CORE PLAN-COMPATIBLE)
Yield: about 2 2/3 cups
Quality ingredients are essential to good-tasting, creamy hummus, especially when you aren't adding alot of tahini and olive oil to it. A food processor is also essential to get the right texture.
2 cups well-cooked chickpeas (garbanzo beans), or canned (a 19 ounce can), drained
(see Cooking Tips below for recommended brands of canned)
(NOTE: If using canned, drain them and rinse under tap water in a colander.)
1/4 cup lemon juice, preferably freshly-squeezed
(or Santa Cruz Organic bottled
)
2 large cloves garlic, peeled and crushed
3/4-1 teaspoons salt
1/2 teaspoon ground cumin
1/8 teaspoon cayenne pepper
2 tablespoons sesame tahini
(see Cooking Tips below for recommended brands)
Possible garnishes:
paprika or smoked paprika (pimenton-- mild or hot)
chopped fresh parsley, mint or cilantro
chopped green onions
toasted pine nuts or almonds
grated organic lemon zest
NOTE: It is important to use hot or very warm chickpeas in this recipe-- it is one of the secrets to making creamy hummous!
If possible, use freshly-cooked chickpeas straight from the pot.
If that is not possible, re-warm home-cooked chickpeas or canned (rinsed and drained) chickpeas by heating them, covered in water or their cooking broth, if they are home-cooked (do NOT use the canned liquid!) in a pot or in the microwave until they are hot through. Then drain them again.
Place the hot chickpeas in a food processor with all of the ingredients EXCEPT the tahini. Process until it is
very
smooth. Stop the machine, but don't remove the mixture yet!
Another important step to increase creaminess is to heat the tahini a little and add it at the end to create a sort of emulsion.
Place the tahini in a small cup or ramekin and heat it either by 1.) microwaving for 1 minute at 25% power, or 2.) placing the cup in a pan of hot water and heating it in simmering water until the tahini is warm and more liquid.
(You can also use a egg poacher to warm the tahini over water.)
Now, start the food processor running again, and remove the pusher from the tube in the lid. Slowly drizzle the warm tahini into the whirling mixture, scraping all of it out with a small spatula. Process for another 30 seconds or so.
If the mixture seems too thick (remember that it thickens up as it cools), you may add a tablespoon or so of water, 1 teaspoon at a time. taste for salt. The garlic flavor will be stronger after the hummus sits for a while.
Place in a serving bowl or spread on a plate, cover with plastic wrap and refrigerate until serving time.
FOR BEST FLAVOR, BRING TO ROOM TEMPERATURE BEFORE SERVING.
Serve with raw veggies and wedges of sprouted wheat pita bread, sourdough bread, or fat-free dark rye crisps.
Nutrition Facts
Nutrition (per 1/3 cup serving):
92.2 calories; 26% calories from fat; 2.9g total fat; 0.0mg cholesterol; 182.3mg sodium; 150.1mg potassium; 13.2g carbohydrates; 3.5g fiber; 2.2g sugar; 9.7g net carbs; 4.4g protein; 1.4 points.
VARIATIONS:
Green Hummus
Increase the salt to 1- 1 1/2 teaspoons, the cumin to 1 teaspoon, and the cayenne to 1/4 teaspoon. After the hummus has been blended smooth, add 10 oz. frozen spinach, kale, chard or collard greens, thawed, squeezed as dry as possible, and chopped and process again briefly to mix.
Roasted Red Pepper Hummus
Make the Plain Hummus variation, adding 1/2 cup drained, rinsed
roasted red pepper
from a jar when you process the chickpea mixture.
Roasted Garlic Hummus
(garlic flavor mellows and sweetens when roasted)
Omit the raw garlic from the recipe and, instead, add 3 medium heads of roasted garlic
(see Cooking Tips below
), squeezing it out of the skins into the food processor. OR you can use about 24 cloves of
roasted garlic from a jar
.
Smoked Paprika Hummus (one of my favorites!)
Omit cumin and use 1 teaspoon
mild or hot smoked paprika (pimenton)
.
Artichoke Hummus
When the hummus is finished, add 1 cup of
marinated artichoke hearts
, rinsed under hot water, patted dry, and chopped, and 1/2 teaspoon grated organic lemon zest. Pulse just to mix. If you prefer, omit the cumin from this variation.
Sun-Dried Tomato Hummus:
Add 1/4 cup chopped
dried tomatoes
which have been soaked in hot water until softened, then drained. You can add them at the beginning of processing, or at the end, depending on the texture you desire.
Cooking Tips
Cooks Illustrated Magazine recommends the following brands of tahini and canned chickpeas. I use home-cooked chickpeas (sometimes frozen, thawed, and warmed-up), and
Krinos
or Cortas tahini.
RECOMMENDED BRANDS OF TAHINI:
Joyva Sesame Tahini
Krinos Tahini
Arrowhead Mills Organic Sesame Tahini
Alma Sesame Tahini
Cortas Tahina
RECOMMENDED BRANDS OF CANNED CHICKPEAS OR GARBANZOS:
Pastene
Goya
Progresso
Eden Organic
ROASTED GARLIC:
Slice the top pointed end off the whole head of garlic to expose the tops of the cloves. Place head (s) of garlic on aluminum foil and wrap tightly. Place in a small pan.
Bake alongside whatever you have cooking in the oven, or in a toaster oven at 375 degrees F to 400 degrees F for 40-60 minutes, until the garlic is soft.
Roasted garlic can be, stored, well wrapped, in the refrigerator for several days. It can be added to salad dressing for a creamy texture and deep flavor, or used as a spread on bread.
Enjoy!!

Posted by

Bryanna Clark Grogan
at 10:55 AM