Notes from the Vegan Feast Kitchen/ 21st Century Table: The kitchen journal of a vegan food writer...For the 21st century we need to learn to cook for ourselves again, and learning to cook vegan can be a bit intimidating. I'd like to help with that, from my kitchen to yours. (Photo by Scott Hurlbert) I'm now on Facebook and Twitter(see links in sidebar at right).
Thursday, February 15, 2007
NEW HOMEMADE SOY YOGURT RECIPE! EASIER, CHEAPER, MORE RELIABLE, CREAMY....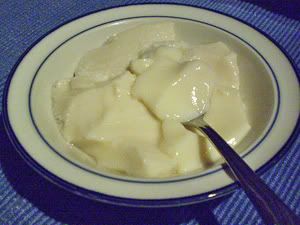 My new recipe for soy yogurt! Success at last!
By George, I think I've got it!
I've just spent a good part of the last three days perfecting and re-writing my soy yogurt recipe, and
getting it onto my website
in various forms (long form, shortcut form,
small batch form
, using various kinds of soymilk, etc...). I had a pretty good version there for two years or so, using
Pomona's Universal Pectin
(a low-methoxyl pectin made from citrus, which is great for making jams, jellies and preserves with either no sugar, or less sugar, or alternative sweeteners, because it doesn't need sugar to make it jell, like regular pectin-- it uses a calcium solution to jell!). But I found over time that the results were inconsistent, and it was kind of "fiddly", and alot of people had trouble finding Pomona's. It would separate after culturing, and you'd have to blend it with a hand immersion blender before refrigerating it. I wanted to make a product that did not have to be blended with a blender or immersion blender, because I found that the blending made the yogurt unpleasantly frothy in texture.
Also, there was the problem of people who used calcium-enriched soymilk. If the calcium balance isn't right when you use low-methoxyl pectin (Pomona's), you can end up with a rubbery and unpleasant product! So, I kept searching for a new stabilizer/thickener.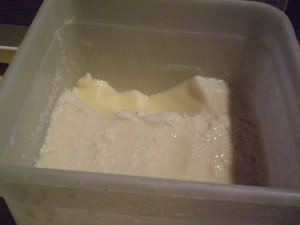 Why do we need a stabilizer/thickener for soy yogurt?
Because soy protein does not behave in the same way as milk protein, so soy yogurt just does not set as firmly as dairy yogurt. Some people don't mind that, but I like it thicker.
My goal was
a spoonable yogurt that will hold its shape, but, at the same time, haave a soft texture and creamy mouthfeel; not separate; not "weep" more than normal yogurt; and have a pleasant, tart flavor. I also wanted to streamline the process a bit.
Originally, I used
kosher jel
to thicken my soy yogurt, but, because of the difficulty of getting truly vegetarian kosher jel in my area, and because the truly vegan brands, such as Kojel and Carmel, are not sold in bulk and are herefore quite expensive (considering how much you must use per batch of yogurt-- a whole box!), I experimented with other stabilizers, including tapioca starch (by itself), carageenan or Irish moss powder, cornstarch, agar (by itself), and low-methoxyl fruit pectin (the kind that uses calcium rather than sugar to jell, like Pomona's Universal Pectin).
When I tried
carageenan or Irish moss powder
I had to throw out the yogurt-- it tasted like seaweed!
Agar
alone produces a firm product (too firm, actually, unless you blend it after setting, and then it tends to be too runny, in my opinion), but it does not taste creamy to me, no matter what I do to it or what I use. Tapioca starch and cornstarch on their own made a yogurt that was runny and separated after a couple of days. I tried a mainstream brand of no-sugar pectin (Bernardin), but it was $2.00 per package and you had to use the whole package! It did not work well in any case.
So, after using Pomona's Universal Pectin (low-methoxyl pectin) with mixed results for 2 years, I decided to try agar again. It was extremely firm, so I blended it after it had set, as instructed. That was better, but we found it too runny after the blending, and, as I said before, even with Soy Dream added, it lacked creaminess.
I also tried
xanthan gum
, which was praised by a poster on my vegsource forum. I found the mouthfeel unpleasant and there was also a certain bitterness. It was still pretty runny, as well, but you certainly wouldn't want to add more xanthan gum, since it's not cheap and I didn't want more of the mouthfeel or bitterness.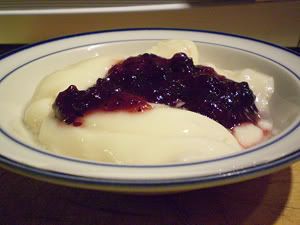 So, I thought about how I make
vegan fruit jells
, and my vegan
low-fat vegan mayonnaise
--
with a mixture of starch and agar
. The starch softens the effect of the agar, and the agar provides stability. I thought that might be the answer. I read up on starches and learned that
tuber starches do not react to acidity negatively, as grain starches do
.
So, I opted for inexpensive tapioca starch (also known as tapioca flour), and agar powder,
which is easier to work with than the flakes.
For the primary recipe, I also decided to use a combination of 1 batch (6 cups) of homemade soymilk with 1 box (1L or 1 quart) of a creamy commercial soymilk (Soy Dream is the one I like best) for enhanced creaminess.
This makes a large batch of yogurt (10 cups), so I also included
another p
age with not only a small batch version of the primary recipe, but
also recipes using ONLY homemade soymilk, and ONLY commercial soymilk
.) You don't need a blender, food processor or even an immersion blender to make this yogurt!
The results were great!
DH, who hasn't been that crazy about soy yogurt, really likes it, and serves himself some voluntarily now! (He likes it with a little maple syrup on top).
It did not have to be blended after setting because it didn't separate
(YAY!), and it "weeps" only a tiny bit after some is spooned out, like many dairy yogurts (you can just drain it off, if necessary). The texture and mouthfeel are good, the taste is pleasant and tart, and it was easy to make.
I outline
four different ways
to incubate your yogurt, too.
You don't have to buy a yogurt maker!
I give you two ways to make yogurt with equipment you might already have around your house.
But, if you want a yogurt maker, I provide links to US and Canadian sites for both electric and non-electric versions.
I have thrown out my old electric yogurt makers, which were either too cool or too hot in temperature.
My OLD Salton yogurt maker
I would like to get a non-electric
Yogotherm
incubator someday soon: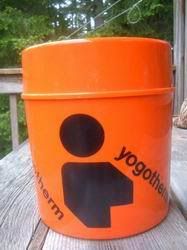 But, this is the method I use now.
You can use 5 widemouthed pint jars or 3 widemouthed quart jars with screw-on lids (plastic lids, preferably), or even one large, wide-mouthed container, if you like. Place the container(s) inside of an inexpensive Styrofoam cooler along with 2 quart jars of boiling water (with lids-- and the jar should not touch the yogurt jars). (Warm up the cooler with the jars of hot water while you get the yogurt ready.) Place the cover on the cooler and cover with an old blanket. You may have to add more hot water to the jars halfway through the incubation time. It works perfectly!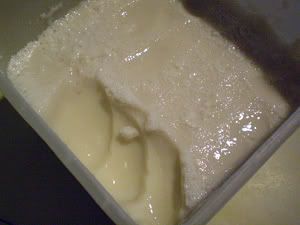 THE COST OF HOMEMADE SOY YOGURT
(this is in Canadian dollars-- it will be less in US dollars): Even when made with all commercial soymilk, it save you at least $1 a quart, compared to storebought soy yogurt. If you use 2/3
homemade soymillk
and 1/3 commercial soymilk (like
Soy Dream Original Enriched
, which is really nice and creamy and rich, with no chalky aftertaste), you will save at least $3.15 a quart. I think it's worth it to add 1 quart or L of commercial soy milk to homemade for a creamier texture.
NON-DAIRY YOGURT CULTURE OR STARTER
: Because we now have access to totally-vegan,
live-culture, non-dairy soy yo
gurts, AND
dairy-free dried yogurt cultures
, we can use them for starters instead of dairy-based yogurts, or dairy-based yogurt cultures.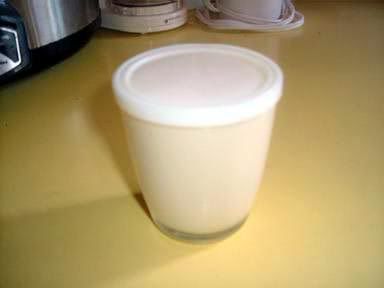 So, if you are interested in making your own soy yogurt, please go to my website and check out the new recipe. All the details are there! And please give me some feedback!
Enjoy!

Posted by

Bryanna Clark Grogan
at 5:52 AM